Still looking for that perfect present?
Scroll down to take a peek at some great gift ideas from SockShop.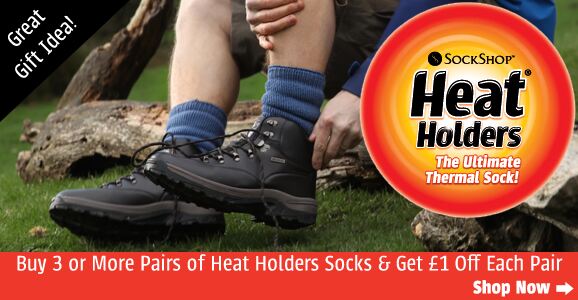 What makes these socks and boxers magical?
These Magic Socks and Magic Boxers will arrive compressed into a very small package; simply unwrap the item, soak in water for a short while and, as if by magic, watch as your socks or boxers appear!

LAST RECOMMENDED ORDER DATES FOR CHRISTMAS 2010*

UK
UK Standard 1st Class Delivery - 2.30pm on Tue 21 Dec 2010
UK Special Next Day Delivery - 2.30pm on Thu 23 Dec 2010

Europe
Western Europe - 2.30pm on Mon 13 Dec 2010
Eastern Europe – 2.30pm on Fri 10 Dec 2010

Worldwide
USA and Canada - 2.30pm on Fri 10 Dec 2010
South & Central America - 2.30pm on Mon 6 Dec 2010
Caribbean, Africa, Middle East, Asia, Far East (including Japan), Australia & New Zealand - 2.30pm on Mon 6 Dec 2010

*Last recommended posting dates given to us by Royal Mail. SockShop are unable to gurantee this.

About SockShop
If you want a pair of socks then you have come to the right place! We here at SockShop are socks nerds, living and breathing socks so that we can offer you a humongous online sock range! Whether you love socks or just simply want to stock up your sock drawer then find your perfect pair in our massive range, hand-picked by us to fulfil your every sock need. Why shop for socks anywhere else but a specialist SockShop like us. We don't like to keep you waiting, so we have millions of socks, tights & underwear stocked in our warehouse at all times! Any items that are in stock on the website we keep in our warehouse ensuring you get your items as soon as possible.

Place your SockShop.co.uk order before 2.30pm (UK) and it will be sent out the same day by First Class Royal Mail (Monday - Friday). Subject to availability.
For any further information then please contact us on 0800 0195 667 or email us at contact@sockshop.co.uk
Sock Shop Team