£ GBP
We accept PayPal and Amazon Payments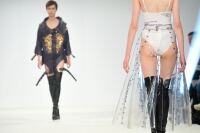 Students get first taste of world of fashion
02nd June 2015
The great and good from the world of fashion have been gathering in London for a prestigious event ...
View More News
Got a question? Get instant answers:
Pringle of Scotland underwear
In anticipation of Pringle of Scotland wowing the crowds at London Fashion Week with their show on Monday, we wanted to highlight their amazing underwear available at SockShop.

Perfect for fashion and quality-conscious guys, these comfortable and stylish trunks are also now on sale!