£ GBP
We accept PayPal and Amazon Payments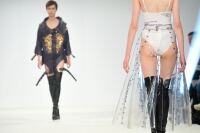 Students get first taste of world of fashion
02nd June 2015
The great and good from the world of fashion have been gathering in London for a prestigious event ...
View More News
Got a question? Get instant answers:
Intro

There is nothing nicer than the feeling of slipping into a cosy pair of slipper socks at the end of a long, tiring day. Look after your hard working feet, making sure they are warm and protected in a pair of Totes slipper socks. Find your perfect pair in our new selection of ladies & mens Totes slipper socks. A great gift idea; Totes slipper socks are a thoughtful present that anyone will enjoy.