£ GBP
We accept PayPal and Amazon Payments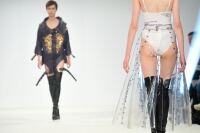 Students get first taste of world of fashion
02nd June 2015
The great and good from the world of fashion have been gathering in London for a prestigious event ...
View More News
Got a question? Get instant answers:
Elle spotty slipper socks
Stay snug against the cold this autumn with our gorgeous Elle bed and slipper socks. Treat your feet to some lovely booties, or funky cable knits, or even super soft brushed socks. Our Elle range will keep you so warm and cosy you won't want to leave the house!