£ GBP
We accept PayPal and Amazon Payments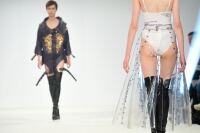 Students get first taste of world of fashion
02nd June 2015
The great and good from the world of fashion have been gathering in London for a prestigious event ...
View More News
Got a question? Get instant answers:
Men's slipper socks
Put your feet up at home in a perfect pair of sturdy men's slipper socks. Great for gifts, our range of men's slipper socks will let you relax after a long day in total style and comfort. From understated luxury to fun cartoon characters, there's something for everyone in our men's slipper sock range.