> Ladies 1 Pair Burlington Ascot Original Golf Argyle Anklet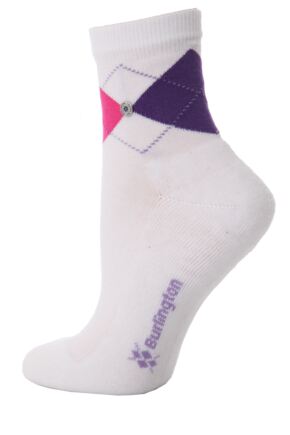 Hover to Zoom
Burlington Ascot Original Golf Argyle Anklet
£
9.00
100% of Reviewers Like this product
(based on 1 reviewers)

Read Reviews

If you love the look of argyle, but prefer a trainer style sock, Burlington Ascot Original Cotton Argyle Anklets might just be what you've been searching for.
With a
cushioned
plush inner sole, fine breathable upper and a short ankle with a slim welt, these soft,
Cotton
rich anklets are idea for wearing with trainers, plimsolls or as cozy house socks.
The traditionally knitted single row
argyle
pattern is fresh looking, with the Burlington metal button central on the diamond. A Burlington logo on the sole completes styling of this quality sock.
(05/12)
75% Cotton 25% Polyamide
1 Pair Pack
Burlington metal button detail
Plush cushioned inner sole
Machine washable at 30°
Reviews
from Feefo
100% of Reviewers Like this product (based on 1 reviewers)
| Date | Rating | Comment | Response |
| --- | --- | --- | --- |
| 09-May-2013 | | all the products I brought were for a birthday gift. I know she loves the Burlington range, just a lack of big size I found really wanted the size upto 7.5. she loves though so all good | |