> Ladies 1 Pair Elle Cotton Slouch Socks In 6 Colours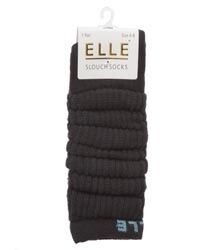 Product Is Packaged This Way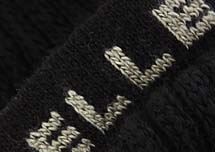 Elle Cotton Slouch Socks
£
4.00
89% of Reviewers Like this product
(based on 11 reviewers)

Read Reviews

Special Offers
ELLE Multi-Buy - Buy Any 3 ELLE Products Get 10% Off Buy Any 6 Get 20% Off
This pair of sporty-looking slouch socks are a must for this season.
This pair of fabulous ELLE slouch socks have a fitted, lightweight foot for an incredibly comfortable wear and a chunky
ribbed
leg that has been designed to be worn slouched down the leg.
Cotton
rich for comfort and coolness. Wear over jeans, over tights or on bare legs for a versatile range of looks, but never compromise comfort for style!
(06/11)
86% Cotton 12% Polyester 2% Elastane
1 Pair Pack
Lightweight for comfort
Normal seamed toes
Standard cuff
Reviews
from Feefo
89% of Reviewers Like this product (based on 11 reviewers)
| Date | Rating | Comment | Response |
| --- | --- | --- | --- |
| 09-Feb-2015 | | Look good but haven't had the chance to wear them yet. | |
| 16-Sep-2014 | | exactly as advertised, quality product | |
| 24-Dec-2012 | | yellow patchy | Thank you for your feedback on these ELLE slouch socks. I am sorry if you were disappointed with the yellow ELLE logo on the cuff. The reason it would appear slightly patchy is that the ELLE logo is yellow but the sock is black and so the black will come through slightly when worn and stretched. I hope that this explaination is reassuring. Of course, if you are at all unhappy with these ladies socks then please pop them in the post back to us for a refund or exchange using the FREEPOST UK returns label. Best wishes,Cassie |
| 31-Oct-2012 | | Good value for money | |
| 17-Aug-2012 | | Socks are fab | |
| 09-Aug-2012 | | could use slightly HEAVIER DUTY as I'm a man, and can't get the Reebok Slouch / Sports sox anymore. otherwise these girly ones are pretty close! | |
| 12-May-2012 | | Although I haven't worn them yet, they are exactly what I wanted. | |
| 11-Apr-2012 | | I do like the socks unfortunately one pair is damaged by way of a thread which seems to have been pulled leaving a gap in the fabric. I am going away this weekend and do not have time to sort this out. | Many thanks for your feedback regarding the Elle Cotton slouch socks you recently purchased. I am sorry to hear that one of your items is faulty. I have therefore arranged for a replacement pair to be sent out to you asap and would like to apologise for any disappointment or inconvenience caused on this occasionZoe :-) |
| 02-Mar-2012 | | Good fit on the foot (Size 3-7 for my size 6 feet) and plenty of slouchiness, very comfortable to wear - most of the day, including longish bike ride and some indoor exercise and gardening. No chafing or irritation - worn with Nike running "trainers". Would have preferred embroided logo rather than printed but no complaints. Some loose "fluff" but this shook off easily Have not washed yet so cannot comment on result of machine wash. Overall, very happy - wish I had ordered two pairs as I think I will be wearing them a lot. | |
| 02-Feb-2012 | | I have not worn them yet but they seem to be as described and are just what I was looking for. | |