> Ladies 1 Pair Elle Stripe Fairisle Home Knit Bootie In 5 Colours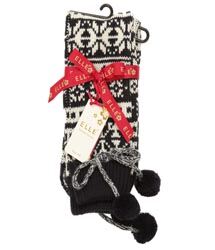 Product Is Packaged This Way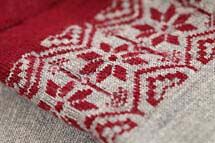 Elle Stripe Fairisle Home Knit Bootie
£
8.00
86% of Reviewers Like this product
(based on 4 reviewers)

Read Reviews

Special Offers
ELLE Multi-Buy - Buy Any 3 ELLE Products Get 10% Off Buy Any 6 Get 20% Off
Traditional style Fairisle knit booties that make a great birthday gift. The pack comes with a gift tag and ribbon so you can add your own message.

The chunky hand knit design is great as a winter warmer, while star-shaped bottom grips keep you protected even on polished floor surfaces.

The cheery pattern is topped off with a funky pom pom bow.
(09/11)
100% Acrylic
1 Pair Pack
Home knit style
Grips to prevent slipping
Reviews
from Feefo
86% of Reviewers Like this product (based on 4 reviewers)
Date
Rating
Comment
Response
26-Dec-2013
The socks had too tight an upper cuff so they struggled to get over a high instep and completely failed to pull up further than lower calf. They will have to be returned.
Thank you for letting us know your thoughts on our Elle Stripe Fairisle Home Knit Booties. This is most surprising as these slouch socks should comfortably fit over the foot and leg. You must have received a one off faulty pair. Please do return them to us for a refund or exchange. It is so simple to return, just pop them in the post using the FREEPOST UK returns label included in your order, please fill our the returns section on your paperwork and include within the order. I am very sorry for the problems here, we want our customers to love each and every item so we hope that we can rectify this matter. Best wishes,Cassie
23-Sep-2013
Really cosy, can't wait for the colder weather so I snuggle up in them.
11-Jan-2012
Very nice product in the current Fairisle pattern with a pretty little bow to finish it off!
Well made and was very welcome by the Lady of the house - particularly as it has warming properties at this time of chilly breezes - recommended.
27-Dec-2011
Lovely cosy socks. Spoilt for choice which socks to buy but these are great. Thanks sockshop!