> Ladies 1 Pair Elle Angora Slipper Socks with Heart Grips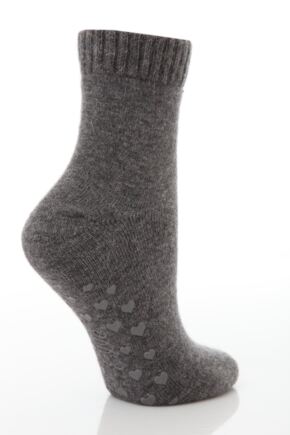 Hover to Zoom
Elle Angora Slipper Socks with Heart Grips
£
7.00
88% of Reviewers Like this product
(based on 4 reviewers)

Read Reviews

Special Offers
ELLE Multi-Buy - Buy Any 3 ELLE Products Get 10% Off Buy Any 6 Get 20% Off
Indulge in these luxuriously soft
angora
slipper socks from Elle. Made with wool and angora they are lovely and warm, perfect for the winter.
They are perfect for relaxing in comfort at home, with the
gentle grip cuff
for comfort and the full
cushioning
makes every step lighter.
The delightful heart shaped grippers on the bottom are a pretty design feature, as well as stopping you from slipping even on polished floor surfaces.
These will become firm winter favourites!
(06/11)
Reviews from Feefo
88% of Reviewers Like this product (based on 4 reviewers)
| Date | Rating | Comment | Response |
| --- | --- | --- | --- |
| 24-Jan-2015 | | Very good | |
| 19-Dec-2013 | | Lovely, soft slippers. Beautiful. | |
| 13-Sep-2012 | | Lovely slipper socks,and beautiful quality as usual. | |
| 16-Jul-2012 | | Actually our order was for three pair Elle Angora Slipper Socks. Our last order with Sock Shop was for Burlington luxury Angora Slipper Socks - but they have discontinued these regrettably - so we ordered the Elle make. These are no where near the quality of Burlington and even the non-slip pads on the bottom of the sock are not correctly placed - the bottom of the sock in way of the heel area has no anti-slip pads at all! - quality and design I would give only 4 ourt of 10! - I would suggest Sock Shop looks again to other manufacturers. | Many thanks for your feedback regarding your recent order of ELLE Angora Slipper socks, I am sorry to hear that you are unhappy with this item, which I am really surprised by as our ELLE brand is a very popular one. Please feel free to return the items for a full refund.:-) |