> Mens 3 Pair Jeep Vintage Leisure Socks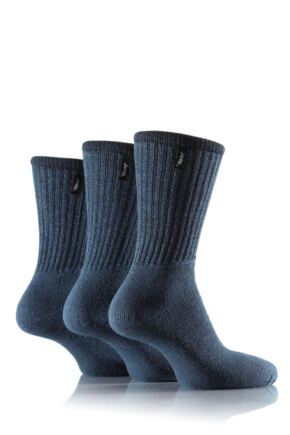 Hover to Zoom
Jeep Vintage Leisure Socks
£
6.00
88% of Reviewers Like this product
(based on 4 reviewers)

Read Reviews

Special Offers
Jeep Multi-Buy - Buy Any 3 Jeep Products Get 10% Off Buy Any 6 Get 20% Off
Love the great cotton comfort these Jeep vintage socks give your feet! In a fantastic value 3 pair pack these plain socks will complement almost any outfit!

Cotton is great for keeping feet drier as it is naturally absorbent; it also allows the skin to breathe so you have lovely cool and dry feet!

These are the perfect daytime sock for work or play as the colder months creep in. Super stylish and comfortable these Jeep vintage socks make a great choice!
83% Cotton 15% Nylon 2% Elastane
3 Pair Pack
Longer Length Cuff
Standard Toe Seams
Reviews
from Feefo
88% of Reviewers Like this product (based on 4 reviewers)
Date
Rating
Comment
Response
01-Oct-2014
Awesome socks
13-Aug-2014
Just what I wanted
26-Apr-2012
The most appallingly awful socks I have ever had. I did not think such a useless, unfit for purpose product could be made. I feel conned out of the cost of postage and having to drive to a post office to return the wretched things.
Service OK
Many thanks for your feedback regarding the Jeep Vintage socks that you recently purchased. I am very disappointed to hear that you are unhappy with these socks as they are a very popular item. Please feel free to return your full order for a full refund. Please use the freepost returns label then this will not cost you any money. I can only apologise for this disappointmentZoe :-)
21-Feb-2012
Go well with formal shoes.