> Ladies 1 Pair Levante 100% Cotton Textured Socks In 7 Colours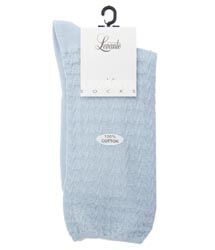 Product Is Packaged This Way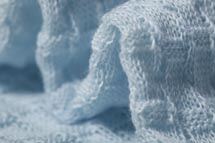 Levante 100% Cotton Textured Socks
£
5.00
91% of Reviewers Like this product
(based on 17 reviewers)

Read Reviews

Richly detailed in a heavy pique waffle weave, these Levante Textured Socks are designed to be seen, not merely worn!
The lightweight feel of these Italian-made
cotton
rich socks will make them a delight to wear, whether teamed with some little strappy pumps or as a signature detail in an outfit.
The soles and toes are plain knit for added comfort, while the narrow cuff edge is slightly elasticated for fit, but these socks look terrific scrunched down around the ankles too!
(04/13)
100% Cotton
1 Pair Pack
Textured pique weave
Elasticated top
Machine washable at 40°
Reviews
from Feefo
91% of Reviewers Like this product (based on 17 reviewers)
| Date | Rating | Comment | Response |
| --- | --- | --- | --- |
| 28-Aug-2014 | | Love the colours, fine texture and knitted pattern. | |
| 26-Aug-2014 | | The socks are made of 100% cotton | |
| 12-Aug-2014 | | Sock were good quality. | |
| 03-Jun-2014 | | Pretty with the texture pattern - elevates plain socks! | |
| 26-Feb-2014 | | Dreadful! Like gossamer they're so thin and loose. | Thanks your your feedback, I am very sorry to hear of this disappointment. These Levante socks are extremely lightweight, made with 97% cotton these Italian-made socks are designed as a summer weight textured sock. I am sorry that they were not suitable. We want you to be happy with the SockShop service so please do return them to us using the UK freepost returns label (included on the paperwork). We do hope you think of us again when re-stocking your sock drawer. Best wishes,Cassie |
| 20-Nov-2012 | | I found this website while looking for seamless toe socks, these are not seamless. A very poor fit, I am a size 6 in a shoe so sent for size 6 in the socks but they are too big. The heel of the sock slips down on to my foot when I am walking. | Many thanks for your feedback regarding the Levante socks that you recently purchased. I am sorry to hear you are unhappy with this item, so please feel free to return this item to us for either a refund or an exchange for something else. Many apologies:-) |
| 24-Aug-2012 | | The items were as described and feel very comfortable on. I have to wear fit for purpose boots every day for work and my feet still feel cool and comfortable after removing my boots. Although they are short they are still a good length to wear with my boots nad do not cause problems at all. very satisfied | |
| 27-May-2012 | | My socks are first class and I shall be back . | |
| 20-May-2012 | | I need 100% cotton socks for my daughter and they are hard to find. I am very pleased with my purchase. | |
| 02-May-2012 | | The items were well packaged and nicely presented, clipped into pairs both with their cardboard item labels and with a tiny metal clip at the toe, with one sock of each pair having a rectangle of tissue inserted. This resulted in pairs of socks which felt exceptionally lovely and a special treat. These Levante 100% cotton socks have an attractive pattern on them - it is unusual to be able to buy 100% cotton socks let alone 100% cotton socks that don't look utilitarian! Also, they don't fall down, which I thought they probably would, having no lycra etc in them, but I think the clever pattern helps to keep them up. They are thin enough to wear with all your footwear but not so thin as to be cold or allow your shoes to rub you. One small complaint: the website shoes a pale blue version of these socks on the page, but they are not then available to purchase. More colours would be nice - those who need 100% cotton socks for health reasons or just out of choice would, as I would, probably like to fill their sock drawers with these in every colour of the rainbow. How about stocking a red pair? | |