> Mens 2 Pack Jeff Banks Durham Fitted Hipster Trunk Boxer Shorts In 2 Colours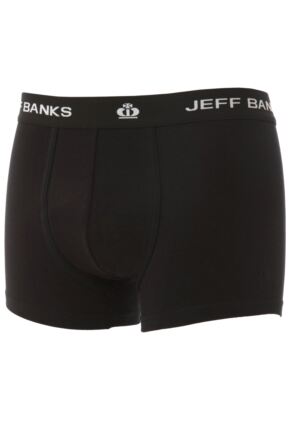 Hover to Zoom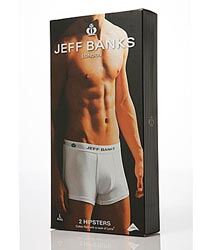 Product Is Packaged This Way
Mens Jeff Banks Durham Fitted Hipster Trunk Boxer Shorts
£
10.00
100% of Reviewers Like this product
(based on 16 reviewers)

Read Reviews

Special Offers
Jeff Banks Multi-Buy - Buy Any 3 Jeff Banks Products Get 10% Off Buy Any 6 Get 20% Off
Designer Jeff Banks has created the ultimate in comfort with this 2
pair
smooth, superfine cotton-rich boxer shorts. The no fly pouch front is shaped with seams to give outstanding support.
Made from 95%
Cotton
, they absorb moisture to keep you cool, fresh and comfortable all day long.
The super-smooth athletic fit means no unsightly wrinkling or bunching, while the added Lycra means these quality boxers hold their shape even after repeated washing.
(06/11)
95% Cotton 5% Lycra
2 Pack
Elastic Waistband
Trunk Short Leg
No Fly
Close Fit Knitted Cotton
Reviews
from Feefo
100% of Reviewers Like this product (based on 16 reviewers)
| Date | Rating | Comment | Response |
| --- | --- | --- | --- |
| 10-Jan-2015 | | Great products at great prices | |
| 04-Jan-2015 | | Had these trunk boxers before 10 out of 10 for comfort | |
| 02-Jan-2015 | | great quality, design and price | |
| 14-Dec-2014 | | I have had these before - good fit + quality again | |
| 12-Dec-2014 | | Excellent quality, excellent price !! | |
| 11-Dec-2014 | | Good quality, great price | |
| 09-Dec-2014 | | somewhat expensive, but excellent quality | |
| 08-Dec-2014 | | This is a tried and tested product in our household, and found the price reasonable. | |
| 01-Dec-2014 | | Great quality | |
| 07-Oct-2014 | | These are the only underwear my husband will where and to bypass him I replace through you. Satisfaction guaranteed. | |