> Ladies 2 Pair Pringle Emma Sporty Rib Knee Highs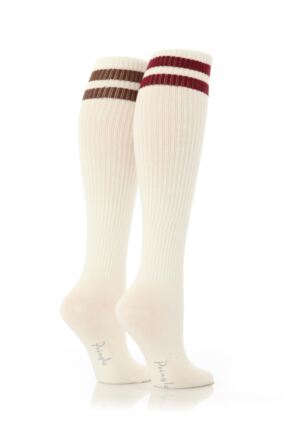 Hover to Zoom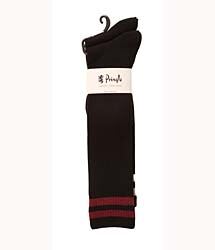 Product Is Packaged This Way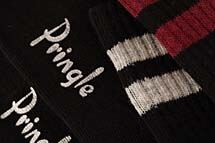 Pringle Emma Sporty Rib Knee Highs
£
7.00
100% of Reviewers Like this product
(based on 6 reviewers)

Read Reviews

Special Offers
Pringle Multi-Buy Offer - Buy Any 3 Pringle Products Get 10% Off
A delightfully soft knee high sock, perfect for everyday wear or for sports. Its
Cotton
-rich mix makes it ultra-absorbent, wicking sweat away from the feet and creating a fresh, healthy environment for your feet.
The classic design also features colourful, cricket-style touches with stripes near the cuffs. The characteristic Pringle logo confirms that this is a top quality product.
The
hand linked toes for smooth seams
are a special feature that will ensure your feet are cared for and won't be irritated by an uncomfortable bulky seam.
(06/11)
77% Cotton 20% Polyester 3% Elastane
2 Pair Pack
Soft ribbed cuffs
Hand linked toes for smooth seams
Reviews from Feefo
100% of Reviewers Like this product (based on 6 reviewers)
| Date | Rating | Comment | Response |
| --- | --- | --- | --- |
| 08-Feb-2014 | | As described and great fit. | |
| 15-Aug-2013 | | These socks are gorgeous. The quality is excellent, with the right hight for a fussy fashion concious teen! Perfect, on trend and comfortable to wear. | |
| 08-Mar-2013 | | Comfortable, wash well and quite hard wearing although the siaing is variable. | |
| 05-Dec-2012 | | comfortable, no harsh seams | |
| 12-May-2012 | | Excellent product | |
| 10-Feb-2012 | | Good fit and very comfortable | |