> Mens and Ladies 3 Pair Puma Invisible Sneaker Socks In 7 Colours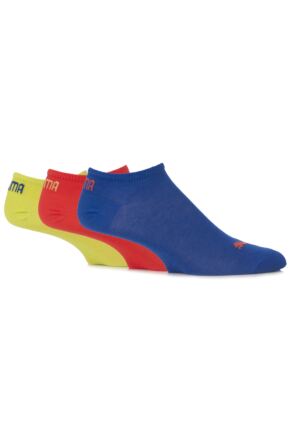 Hover to Zoom
Surf the Web / Cherry Tomato / Lime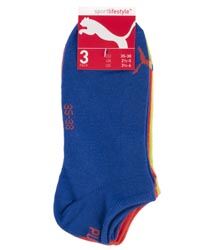 Product Is Packaged This Way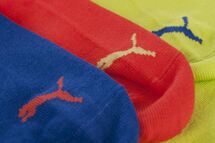 Puma Invisible Sneaker Socks
£
6.00
93% of Reviewers Like this product
(based on 5 reviewers)

Read Reviews

Get that 'invisible' no-sock look with your trainers!
These great Puma brand sneaker socks will keep your feet happy and no-one will be able to tell you're even wearing them!
Puma Sneaker Socks have a below ankle height and elasticated trim for a slip-free fit.
Fine gauge and lightweight, these socks are constructed with a smooth knit and
hand linked toes for smooth seams
for extra comfort, whatever sport you do.
(07/11)
65% Cotton 33% Polyamide 2% Elastane
3 Pair Pack
Hand linked toes for smooth seams
Cotton Rich
Reviews
from Feefo
93% of Reviewers Like this product (based on 5 reviewers)
| Date | Rating | Comment | Response |
| --- | --- | --- | --- |
| 26-Aug-2014 | | good quality trainer socks | |
| 25-Aug-2014 | | . | |
| 16-Jan-2014 | | I have had them before and they survive and don't creep under your heel. Unfortunately they disappear into my son's sock draw, hence the re-order. | |
| 17-Jan-2013 | | All comments as before. | Many thanks for taking the time to let us know your thoughts. I am very sorry that you were unhappy with the items you ordered. Both the SockShop kids socks & the Puma sneaker socks have hand linked toe seams. This means that they still have a seam but the seam is created by linking the stitches of the two sides of the toe seam together with one thread creating a comfortable, flat seam. I am sorry if this was not clear. I have looked up your order and can see that you have returned your items and been fully refunded. We are sorry for the trouble and hope that this has not totally ruined your SockShop experience. Best wishes,Cassie |
| 17-Jun-2012 | | Proper job! | |