> Ladies 1 Pair Rollasole Gold Digger Rollable Shoes to Keep in Your Handbag, Car or Office Desk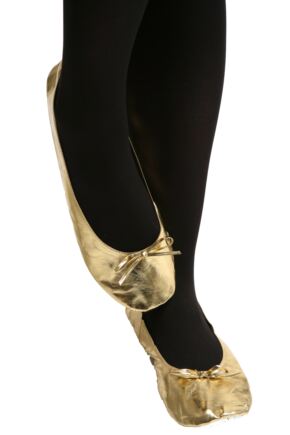 Hover to Zoom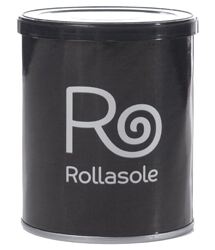 Product Is Packaged This Way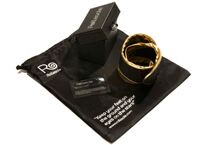 Rollasole Gold Digger Rollable Shoes
£
6.70
60% of Reviewers Like this product
(based on 5 reviewers)

Read Reviews

Designed to be rolled up, pop this pair of Rollasole shoes in your handbag, glove compartment or office desk. Ready for those times when you can't take another step in your favourite high heels, simply unroll and slip on, enjoying the total comfort and instant relief your sore feet will feel.
Each pair comes with a shiny carry bag to take your high heels home in. When not in use, the carry bag cleverly wraps around the rolled up Rollasoles keeping them compact. In a dazzling gold, these Rollasoles are perfect party pumps for you to dance the night away in!
A gorgeous, great-value gift for all your stylish girlfriends, each pair comes in a chic Rollasole gift box!
What's in the gift box -
1 x pair of Gold Rollasole rollable shoes
1 x Rollasole compact high heel shiny carry bag
Easy To Roll & Un-Roll

Upper: Faux Leather, Sole: Thermoplastic Rubber
1 Pair Pack
Rollable flat shoes
Shine Finish
Shiny bling gold colourway
In a bling gold colourway for perfect party feet
Reviews from Feefo
60% of Reviewers Like this product (based on 5 reviewers)
Date
Rating
Comment
Response
04-Oct-2013
Lovely shoes fit perfectly
03-Oct-2012
The shoes fell apart the second I put them on even though I had bought the right size, will not be buying these again!
Many thanks for your feedback and I am disappointed to hear of this issue, if you have not already done so please return these shoes to us for a full refund. Please use the freepost address label that was attached to the bottom of the enclosed invoice. If you no longer have this please advise I can give you the address. Many apologies for this:-)
11-Jul-2012
Havent worn these yet but have tried them on and am thrilled. Have purchased another 3 pairs for Xmas gift. They fold up really small and there is also a little bag to put your other shoes in :)
05-Jun-2012
Wore for only an hour, then a seam split on each shoe. Trying to return but policy is that returns should be unworn. How else do you test quality other by wearing them?
If I had bought these in a shop, they would go right back!
Many thanks for your feedback regarding the Rollasoles that you recently purchased and I am sorry to hear of this issue, returns only need to be unworn if they are not faulty (e.g if just returning for a different size/colour) as this item is faulty it is fine for you to return them when worn.:-)
12-May-2012
Brill.