> Mens 1 Pair RunBreeze Ergonomic Anti-Blister Trainer Socks With CoolMax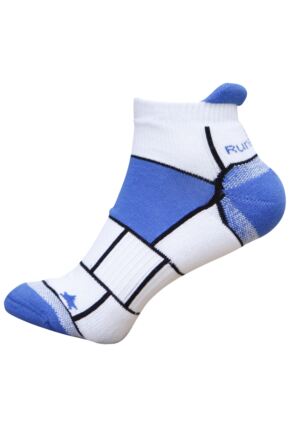 Hover to Zoom
Runbreeze Ergonomic Anti Blister Trainer Socks With Coolmax
£
8.00
100% of Reviewers Like this product
(based on 1 reviewers)

Read Reviews

The blister is the main enemy of the serious runner, which is why RunBreeze Ergonomic Anti-Blister
Trainer
Socks, deigned by runners, for runners, will be such an important part of many an athlete's kitbag.
If fact, anybody who suffers with blisters could benefit from RunBreeze's double layered foot-savers.


RunBreeze Anti-Blister Socks work by having the technical Tactel inner rub against the outer, instead of your foot.
Ergonomically designed, the socks are left/right specific, placing support areas and zonal cushioning exactly where they are needed, with arch, heel and toe support for added grip, an Achilles heel protector and vented panels.
CoolMax fabric further aids breathability and moisture management for dry, healthy feet.

(07/12)
51% Cotton 23% Coolmax Polyester 18% Polyamide 7% Tactel 1% Elastane
1 Pair Pack
Double layered anti-blister liner sock
Ergonomically designed Left and Right footed
Zonal cushioning
Reviews from Feefo
100% of Reviewers Like this product (based on 1 reviewers)
| Date | Rating | Comment | Response |
| --- | --- | --- | --- |
| 20-Jan-2015 | | Nice socks. | |