> Mens 1 Pair Scott Nichol Shetland Wool Rib Shooting Socks In 7 Colours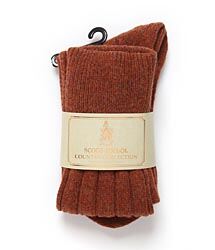 Product Is Packaged This Way
Scott Nichol Shetland Wool Rib Shooting Socks
£
30.00

Scott Nichol creates beautiful, traditional socks that really show off their English heritage. Particularly renowned are their stunning shooting socks.

This pair of men's Scott Nichol shooting socks are made rich in Shetland Wool which is distinctive for its silky, soft feel. Made in Leicestershire, in England, this pair of shooting socks are in a traditional knee high length, with a turn over cuff and a ribbed leg.

A luxury feature is the very special hand linked toes for smooth seams creating an almost seam free sock. It can take hand-linkers up to 5 years to master. Enjoy your shoot in total comfort in a pair of socks designed especially for your shooting needs.
90% Wool 10% Nylon
1 Pair Pack
Hand linked toes for smooth seams
Turn over cuff