08000 195 667
FREE ORDER HELPLINE 8am-5pm, Mon-Fri
FREE UK STANDARD DELIVERY & GIFT
WHEN YOU SPEND £30 OR MORE
SockShop Hosiery Wash Care Bag
SockShop Hosiery Wash Care Bag
Designer stockings and tights don't come cheap, so it's worth investing in a way to care for your expensive and delicate legwear with our specially designed SockShop Hosiery Wash Care Bag.

Made with lightweight meshed material, it lets water and washing soap through, but buffers your hosiery against tangling, rough treatment and damage.

Careful treatment with the SockShop Hosiery Wash Care Bag will extend the life of all your favourite tights, stockings and hold ups.

The fastenable bag measures a generous 30cm x 30cm, enough to fit any size and style, and to allow gentle movement and agitation of the hosiery.
(03/13)
Features
Made to protect delicate hosiery
Mesh construction
Measures 30cm x 30cm
No Product Reviews Available
SockShop
Hosiery Size Guide


'One Size' fits all.
Product Information
Designer stockings and tights don't come cheap, so it's worth investing in a way to care for your expensive and delicate legwear with our specially designed SockShop Hosiery Wash Care Bag.

Made with lightweight meshed material, it lets water and washing soap through, but buffers your hosiery against tangling, rough treatment and damage.

Careful treatment with the SockShop Hosiery Wash Care Bag will extend the life of all your favourite tights, stockings and hold ups.

The fastenable bag measures a generous 30cm x 30cm, enough to fit any size and style, and to allow gentle movement and agitation of the hosiery.
(03/13)
Features
Made to protect delicate hosiery
Mesh construction
Measures 30cm x 30cm
All Colours in this Range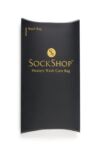 White
Size Guide
SockShop
Hosiery Size Guide


'One Size' fits all.