> Mens and Ladies 4 Pair Workforce Safety Trainer Socks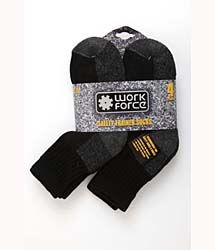 Product Is Packaged This Way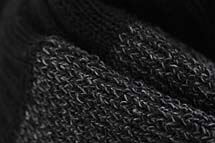 Workforce Safety Trainer Socks
£
12.00
75% of Reviewers Like this product
(based on 5 reviewers)

Read Reviews

Special Offers
Workforce Multi-Buy - Buy Any 3 Workforce Products Get 10% Off Buy Any 6 Get 20% Off
Recommended for safety shoes and boots, this 4 pair pack of safety trainer socks have been created specifically for this use.
Constructed for durability, each pair of socks in this pack is
cotton
rich with a fine toe seam and comfort cuff for a totally comfortable wear.
With maximum density sole and toe padding, every step you take will be
cushioned
.
If you often have to wear safety shoes or boots, then look after your hardworking feet in a pair of hardwearing socks.
82% Cotton 15% Polyester 3% Elastane
4 Pair Pack
Comfort cuff
Fine toe seam
Maximum density cushioned sole and toe padding
Reviews from Feefo
75% of Reviewers Like this product (based on 5 reviewers)
Date
Rating
Comment
Response
03-Sep-2014
I wear a UK size 4 and was delighted to find this product. These socks were described as ladies size 4-8. They are huge, like men's sizes and are therefore being returned.
I am sorry to hear that your trainer socks did not fit as expected. Once returned we will be more than happy to resolve this issue for you and hope that you will still think of us next time you need to fill your sock draw. Best WishesMichael
27-Dec-2013
I was disappointed with the design..i thought i could give it to my step daughter as xmas gift, the appearance wasn't very nice...it doesn't look unisex...
No appeal...it end up to my hubby's shoe cupboard
Thank you for this feedback about our Workforce safety trainer socks. I am very sorry to hear that you are disappointed with the design. These socks are a heavy, functional item designed to be worn hidden under safety shoes and boots. Of course, we want you to love your purchases so please feel free to return them to us if you are at all unhappy with them. Best wishes,Cassie
04-Apr-2013
Good value for money
09-Feb-2012
Just bought a new pair of Cat boots which were a bit 'room'. These socks are ideal for thickening up my feet, very comfortable, and also very warm in this cold weather!
13-Dec-2011
Very pleased with the product