Product Is Packaged This Way
Ladies SockShop Heat Holders
$
10.20
98% of Reviewers Like this product
(based on 36 reviewers)
Read Reviews
Only the originals will do!
When temperatures fall, pull on this pair of ladies Heat Holders thermal socks and enjoy the extreme warmth that these seriously chunky socks will provide.

The ultimate in thermal socks, these Heat Holders have a massive tog rating of 2.34 keeping your feet fully insulated with the specially developed extra heavy bulk yarn.

The inside of each sock has been intensively brushed, giving them a sensationally soft feel, while holding more warm air close to the skin therefore keeping feet warmer for longer. The long pile cushioning, means these socks will not only help keep feet cosy but protected and supported too.

Freebie! You will receive a free sock bag when buying this sock. The SockShop boss loves wearing these socks when travelling but then needs somewhere to put them after wear, this is when the sock bag comes in really handy. We will pop a free sock bag into your order when you buy these socks.
Please note this will not appear online but will be included in your parcel. One per order.
Copied by many. Equalled by none.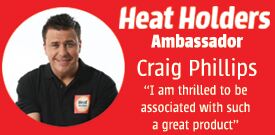 Heat Holders, only the originals will do.
Reviews from Feefo
98% of Reviewers Like this product (based on 36 reviewers)
Date
Rating
Comment
Response
2 Hour(s) ago
Comfortable, warm socks that do what they say - hold the heat!
29-Nov-2013
Not tried them yet
25-Nov-2013
They do what they say. Lovely and warm feet.
25-Nov-2013
See above.
18-Nov-2013
Great socks.
14-Nov-2013
Good, quick delivery
08-Nov-2013
Keep my feet brilliant cosy. It is my sock of choice!
07-Nov-2013
have bought these thermal socks before - wear all year round as soooo comfortable - I am on my feet all day and these are great!
25-Oct-2013
Lovely, thick and very warm, my daughter never wears anything else in the chilly weather. Very hard wearing excellent value.
18-Oct-2013
Best Thermal Socks there is
1 2 3 4 Next Last