A family business for more than 130 years, HJ Hall has grown to become the UK's largest independent sock manufacturers, producing branded collections for all tastes and requirements. This fantastic range is available in a variety of colours and styles, covering business and casual wear, and other specialist activities such as walking. Have a browse through this huge collection below.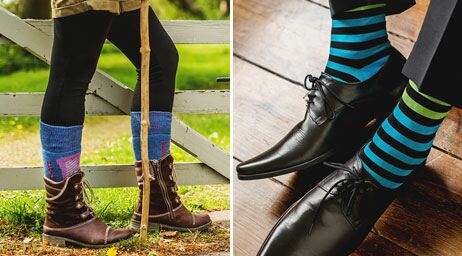 At the age of 28, John Hall, a foreman for a hosiery manufacturer in Hinckley, asked his bank for a £1200 overdraft to build the first HJ Hall factory in the small Leicestershire village of Stoke Golding. From his meagre wage of £2 a week, he managed to save £500, a substantial sum in 1882. This was doubled by his wife, Sarah Hall, who raised a mortgage on their house, which she owned.

From a small firm employing just 16 people, HJ Hall has grown to become the largest independent UK sock manufacturer today. Now, more than 129 years on, the business has seen 4 generations of the Hall family at the helm continuing its successful growth by following the philosophy set out by "Honest" John Hall from the start.

The key philosophy, after 129 years, has not changed - if it is quality, style and comfort you are looking for make sure you look for the Hall Mark, the original and best.

HJ has survived 129 years by focusing on what they do best – socks. Their passion has enabled them to survive wars, recessions and depressions and allowed them to grow into the HJ Sock Group as they are known today.

HJ's constant innovation and creativity have led to partnerships with two leading British celebrities – both known for their skills and expertise in their specific fields. The tie up with Peter Jones from Dragons' Den has proved so successful that the logical step to join up with another celebrity for technical ranges was inevitable – and Ben Fogle was the ideal candidate with the new range carrying his name proving to be highly commercial.