£ GBP
We accept PayPal and Amazon Payments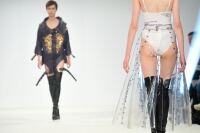 Students get first taste of world of fashion
02nd June 2015
The great and good from the world of fashion have been gathering in London for a prestigious event ...
View More News
Got a question? Get instant answers:

In 2000 a new Pringle of Scotland range began to emerge, with a renewed vision and passion. The vision was to restore the luxury fashion heritage in Pringle of Scotland's rich past. Founded in 1815 by Robert Pringle in Hawick, Pringle of Scotland is inspired by Pringle's rich legacy of beautiful scottish cashmere. Luxury cashmere socks are found in this collection, as well as beautifully designed bamboo and cotton socks and underwear.
0 results in Ladies British
No Products Found
Sorry, we couldn't find any products that matched your search.