Scott Nichol's ancestors have been associated with wool production for over six and a half centuries. This depth of heritage and textile expertise are the foundations of every Scott Nichol sock, ensuring that they source outstanding natural fibres to create your unique and distinctive socks.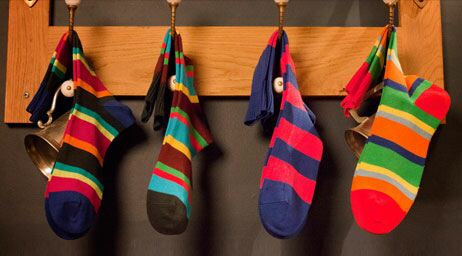 Made at the Pantherella factory in Leicester, in the heart of England, Scott-Nichol socks are all hand-finished to the highest standards demanded by the World's finest sockmakers.

Scott-Nichol use a 'leisure knit' that is a higher gauge than usually used by Pantherella, and this creates a versatile, leisure sock for the discerning gentleman and lady.
Scott-Nichol Wool socks are knitted from a blend of warm virgin wool taken from a sheep's first shearing, with a touch of nylon for added fit and longevity, while the Soft Cotton socks are knitted from a blend of super-soft ringspun cotton, with a touch of nylon for added durability and a snug fit.
The History of Scot Nichol


The brand was founded in the 1930s by John Scott-Nichol and established in Factory Street, Shepshed on the edge of the Charnwood Forest in Leicestershire.
At first it was known as Shepshed Footwear Co Ltd before changing its name to Scott-Nichol in 1946. The Scott-Nichol family had centuries of experience in the Scottish wool trade and could trace their descent from Sir Walter Scott.
In 1947 British Industries Fair Advert featured Scott-Nichol as the "The Crest for Quality" in Men's Handmade Socks. They advertised socks that were: "Argyle, Camel Hair, Iceland Wool, Half Hose and Short Socks in a wide range of Original Designs. Also 6/3 and other Varieties of Ribs."
The company stayed in private ownership, and in 2006 it was purchased by Pantherella.