£ GBP
We accept PayPal and Amazon Payments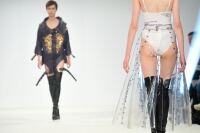 Students get first taste of world of fashion
02nd June 2015
The great and good from the world of fashion have been gathering in London for a prestigious event ...
View More News
Got a question? Get instant answers:
Fold Up Shoes
Every lady should own a pair of post-party shoes; for those times when your heels are too high or your stilettos too sore, just slip on a pair for instant foot relief! This collection of Rollasoles and Tipsy Feet shoes includes a variety of fab colours and patterns, meaning there must be a pair to match your outfit! Each pair of shoes in this range fold or roll up perfect to pop in your car, your clutch and your closet.