£ GBP
We accept PayPal and Amazon Payments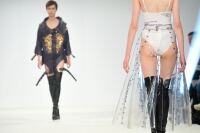 Students get first taste of world of fashion
02nd June 2015
The great and good from the world of fashion have been gathering in London for a prestigious event ...
View More News
Got a question? Get instant answers:
Men's Bed Socks
If you suffer from cold feet at night you will know how disruptive it can be to your sleep. Forget chilly toes and slip into a stunning pair of men's bed socks. Bed socks, tradionally, are made from luxurious, natural materials that are warm and cosy. This collection of men's bed socks includes cashmere, mohair and wool. The difference between and bed sock and a slipper sock is that a bed sock is designed to be worn in bed and therefore does not have a non slip grip, which is essential to a slipper sock.