£ GBP
We accept PayPal and Amazon Payments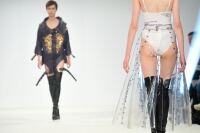 Students get first taste of world of fashion
02nd June 2015
The great and good from the world of fashion have been gathering in London for a prestigious event ...
View More News
Got a question? Get instant answers:
Leg Warmers
Seen in many fashion magazines, retro accessory the Leg Warmer is back. Think less extra in the Fame musical and more cool, contemporary and chic. Great over tights, add some fantastic texture and layers to an outfit with a pair. With highstreet fashion becoming more and more popular everyone is in search for an individual look, so accessorise your highstreet look with your own twist with a pair of Leg Warmers.