SNEAK PREVIEW - NEW Character Socks...
Posted by Danielle

So last year at we introduced Superman - cape and all!

Well, to cater to all your cartoon/comic/superhero loving needs, we're overjoyed to say we'll be joined by even more animated stars this Autumn/Winter! And, as if that news wasn't enough, we've even got some sneak previews because we can't keep these designs to ourselves much longer for fear of bursting with excitement!

Despicable Me 2 - 3 pack
Everybody's favourite little yellow trouble makers have escaped from Gru's lair and made it onto our socks! These Despicable Me 2 Minion socks feature an all over yellow colour and the faces of Dave, Kevin and co. on the ankle.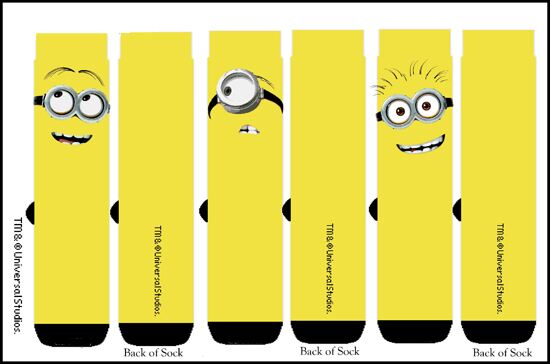 The Amazing Spider-Man - 2 Pack
Spider-Man is one popular super hero and, with the release of the second instalment in the new The Amazing Spider-Man film franchise released earlier this year, our Spidey Senses told us the world might like some appropriate footwear, as a homage to Peter Parker's alter ego! This two pair pack includes one sock pair featuring the Web Slinger himself and another featuring an all over red spider design tagged with 'The Amazing Spider-Man' logo.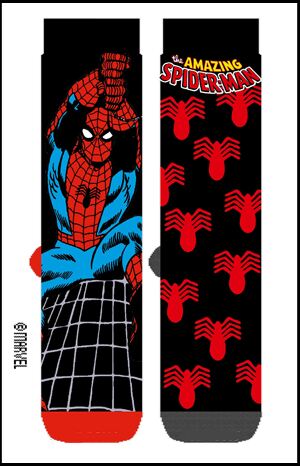 Marvel X-Men - 4 Pack

Days of Future Socks! We couldn't possibly introduce new character socks without including The X-Men, especially after the release of their latest movie epic, X-Men: Days of Future Past! This four pair sock pack includes Wolverine, The Beast, Cyclops and Collossus... Your feet will never have felt so mighty!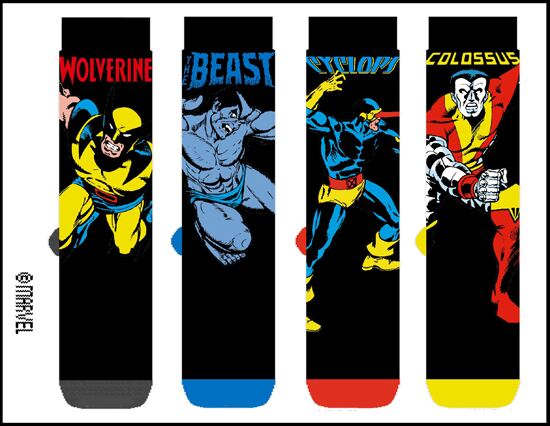 Batman The Brave & The Bold - Ladies 3 Pack
The Dark Knight goes a bit bright with this ladies three pair sock pack featuring three funky designs decorating the iconic Batman symbol.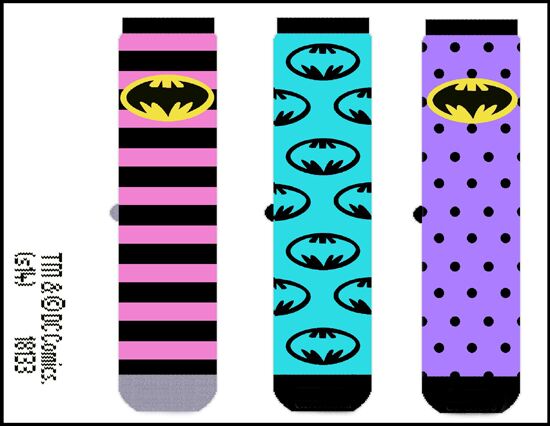 Marvel Captain America - 3 Pack
After the success of a second Captain America movie earlier this year, the First Avenger now has his own three pair pack of socks too; featuring two different designs of Cap in all his red, white and blue glory, and one black design with an all over decoration of his famous almighty shield!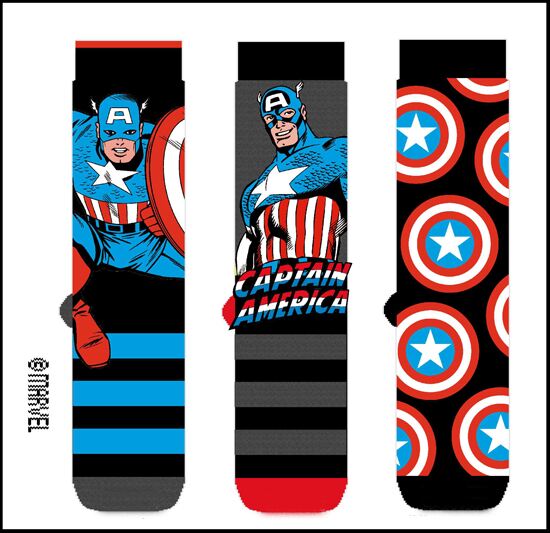 Marvel Villains - 4 Pack
It's good to be bad! Sometimes people even like the villains more than the heroes, but we've managed to capture them... in this four pair Marvel Villains sock pack featuring some of Marvel's most infamous archenemies, including Doctor Octopus, Red Skull, The Green Goblin and Loki! But be careful... they look like they're trying to escape!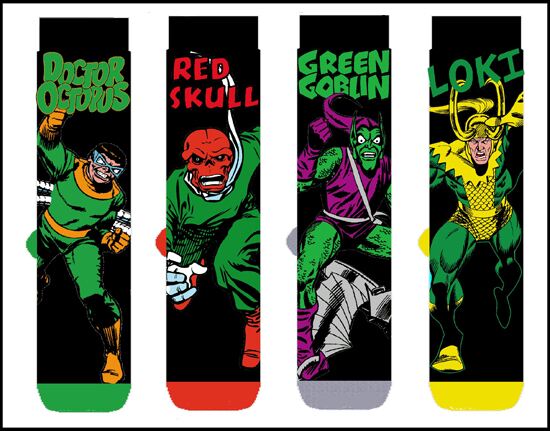 Marvel Thor - 3 Pack
With a second movie hitting screens late last year, The Mighty Thor has taken the world by storm (if you'll pardon the pun!) Now the god of thunder - complete with hammer - and his adoptive brother/arch nemesis, Loki appear in their classic comic book forms in this Marvel Comics Thor three pair sock pack!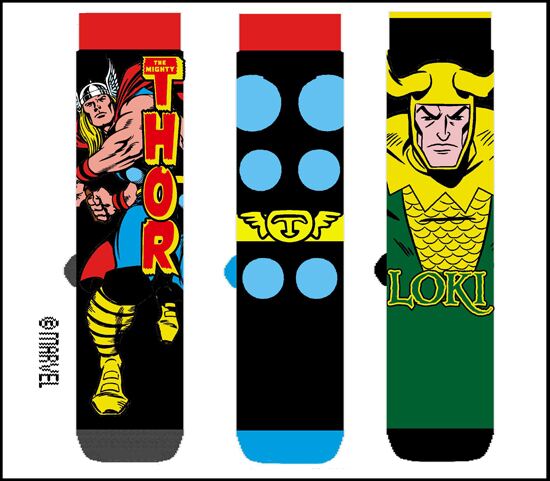 Thor Cape Sock - 1 Pack & Loki Cape Sock - 1 Pack
If you're a fan of our , then you'll love these Thor and Loki cape sock one pair packs. Featuring the classic costume designs of the mighty gods, these socks have an actual calf cape attached to the back! You could even mix & match and team hero with villain!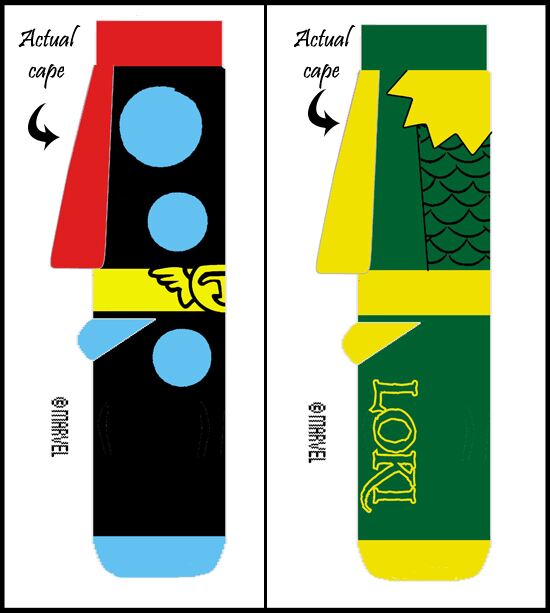 Here's a peek at a few of our first samples, but keep an eye out for these crazy fun cartoon and comic designs coming to SockShop this Autumn/Winter!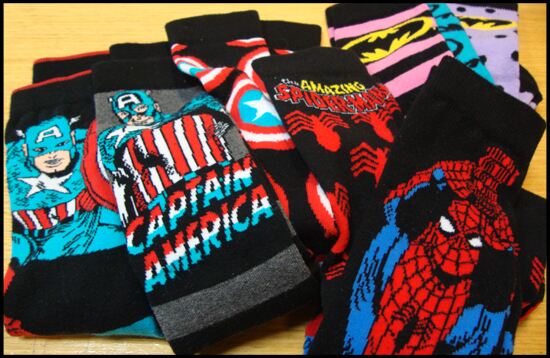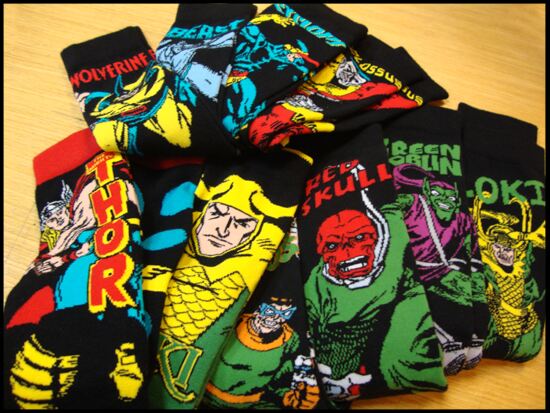 (Please note that designs/sizes/colours/pack arrangements/quantities may be subject to change.)