A guide to Despicable Me 3
Posted by SOCKSHOP
With the ever popular Despicable Me series returning for its third outing (fourth if you include the Minions spin-off film), we thought we'd take a look at the series and what to expect from the new film.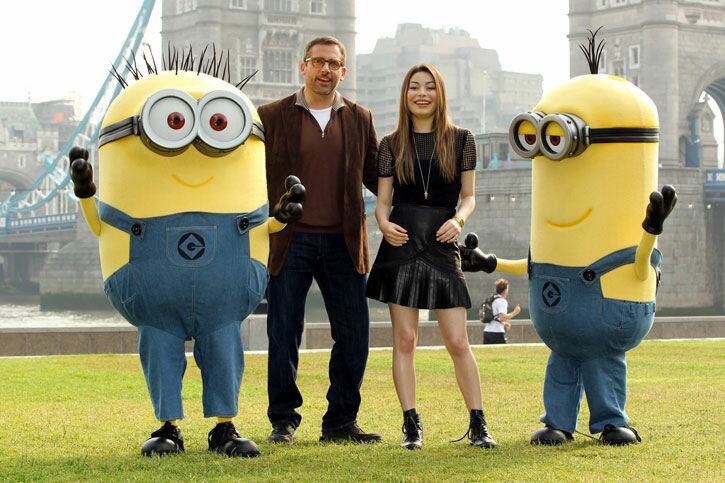 PA.16847757. Stars Steve Carrell and Miranda Cosgrove with some friends. Sean Dempsey/PA Wire

What is it?
The first Despicable Me film was a breakout success, creating not only a much loved character but also a huge film series equal to the likes of Shrek and Toy Story.

It was production company Illumination Entertainment's first animated film so expectations weren't particularly high. But the story about the evil genius Gru and a trio of orphans went on to gross over half a billion dollars across the world.

Following on from this, the sequel nearly doubled that take with just under $1 billion, while spin-off film Minions went a step further and broke through the billion dollar boundary.

And now the series returns to the original foursome of Gru, Margo, Edith and Agnes for another round of yellow-tinged, evil genius fun.
What to expect?
Probably more of the same – but this time around there's two big new characters.

First up is Gru's twin brother Dru. The long-lost sibling is infinitely more charming and cheerful than Gru so expect a clash of characters alongside some family bonding.

And, of course, you need a bad guy. The third time around it's 1980s loving former child star Balthazar Bratt. Once the star of a huge TV show, he's seeking revenge after the show was cancelled and people started making fun of his dated clothing.

The newly re-united brothers must overcome their differences and - along with the orphans, love interest Lucy Wilde, and the Minions – steal back a diamond that Bratt has taken in a bid to take over the world.

Familiar voices
The main cast of Steve Carrell, Kristen Wiig and Steve Coogan will return along with a few new faces (or voices).

While twin brother Dru will also be voiced by Steve Carrell, bad guy Bratt will be a voice familiar to cartoon lovers. Trey Parker – the man behind South Park – is taking the role.

Indie star Jenny Slate will be voicing the mysterious Valerie de Vinci. Other familiar voices include Julie Andrews, Russel Brand and Miranda Cosgrove.

Will there be Minions?
Oh yes. The all-but-mute yet cute (or annoying depending on your point of view) sidekicks were so popular that they were give their own film – which was the most popular of the franchise. Expect them to feature heavily in the new movie.

And if you want to make sure you're dressed to impress when you go to the cinema, make sure to pick up a pair of our Minion socks.