It's Pride month: The history and importance of Pride
Posted by SOCKSHOP
June is Pride Month, and for those who are wondering what pride month is, let us explain. Pride Month is the month dedicated to celebrations of LGBTQ+ communities all over the world. Pride month is an important month for many, so sit back and relax with our article on the history of Pride. To learn more about Pride Month and the history of Pride, keep reading.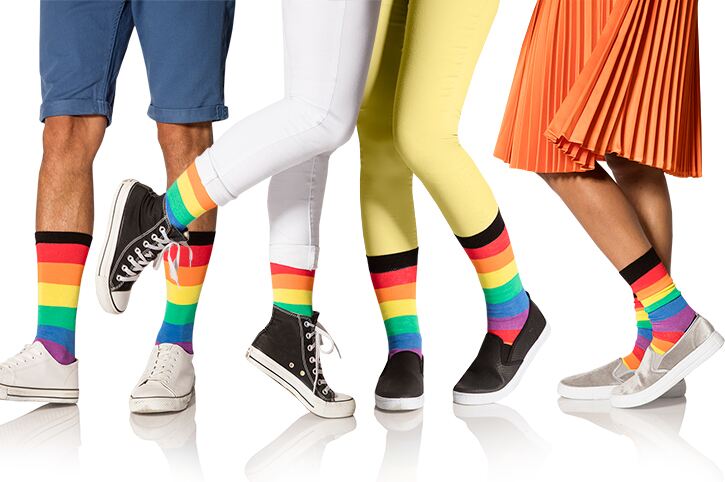 What is Pride month?
Pride is celebrated in June to honour the 1969 Stonewall riots, the protests that marked a huge change for gay rights for a lot of people within the community. Pride month functions to shine a light on LGBTQ+ communities and works to achieve equal justice and equal opportunity for lesbian, gay, bisexual, transgender, and questioning (LGBTQ) people.

Pride Month is usually celebrated through colourful parades, concerts, workshops, events, and marches, all designed to showcase the importance of acceptance and justice for people in these minority communities.

Pride Month acts as a way for people of all genders, identities, and ages to come together in the name of love and acceptance, often to show how far the movement has come, and unfortunately to highlight how, in some cases, there's still so much more work to be done.
The history of Pride
Gay Pride, and therefore Pride Month in June, acts as an honorary event to commemorate the Stonewall riots. The Stonewall riots began in the early hours of June 28th 1969, after police raided the Stonewall Inn bar in New York City's Greenwich Village neighbourhood.

The Stonewall riots occurred within the wider context of broader civil rights movements and marked a significant time in the history of gay rights. Following the police raid on the Stonewall Inn bar, three nights of unrest followed. After long periods of police brutality towards LGBTQ+ people, this community finally took action against the police. Lesbians and transgender women of colour were some of the individuals involved in this famous act of resistance.
Why is Pride month important?
Pride Month is extremely important, not just for people within LGBTQ+ communities but also for everyone else in the world. With the latest BBC report detailing how there are 69 countries across the world that have laws that criminalise homosexuality, Pride Month is a vital month as part of an important movement.

Pride month is all about teaching people about tolerance and educating individuals in Pride history. Without Pride Month and vital education, we cannot continue to move forwards towards equality for all.

Pride Month calls for people to remember the victimisation that LGBTQ+ people have suffered and how damaging homophobia was and still can be.

Here at SOCKSHOP, we believe that love is love, no matter what. To show our support to the LGBTQ+ community and Pride Month, we donate 20% of each sale of our Pride socks to the LGBT Foundation, a vital national charity to provide advice, support, and information services to lesbian, gay, bisexual, and trans (LGBT) communities.