5 signs coloured tights are back this spring
Posted by SOCKSHOP
It's official: coloured tights have taken the hosiery throne this spring. Forget black opaques: adorning your legs with bright, cheerful shades is the best way to welcome in the new season. Whether they're paired with miniskirts or midi dresses, they're fashion's new favourite legwear trend – and here's how we know…

1. They were all over the catwalk…
From Adam Selman's sheer tights in low-denier pink, blue and yellow to the pretty pastels on Jeremy Scott's runway, coloured tights have popped up everywhere this season. We particularly liked the jewel greens and mustard yellows that adorned the legs of the models – though Chanel's glittery gold design was certainly eye-catching, too.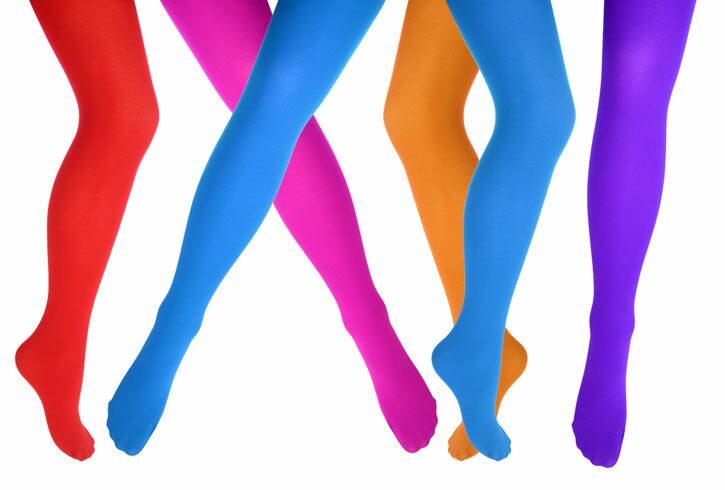 2. … and the street
Kendall Jenner has been a big part of the coloured tights rennaisance back this spring. Street style snaps have captured her in maroon and forest green styles, channelling 90s fashion icons like Clueless's Cher Horowitz in the process. Elsewhere, guests at London Fashion Week were spotted styling coloured tights with miniskirts and heels – a classic throwback to the 1980s and 90s.

3. They were an integral part of Tom Ford's show
Tom Ford's February show was dedicated to all things 1980s, and the hosiery was no exception. From neon to sheer red and pastel pink, his leopard-print designs were eye-catching to say the least.

4. Colour is on trend right now
Even though fashion royalty like Vogue Paris editor Carine Roitfeld love an all-black get-up, colour has always been an integral part of fashion. US Vogue's editor Anna Wintour has even gone so far as to say she hates all-over black outfits.

So it comes as no surprise that, with the 80s and 90s as major influences, the runway has been filled with bright colours, pastels and neons over the last two seasons. Coloured tights might just be the easiest way to add some to your wardrobe.

5. The range of styles is bigger than ever
From neon-striped statement designs to more subtle opaque and sheer colours, there's a huge selection to choose from when it comes to coloured tights. Browse our range, from primary blues and yellows to goes-with-anything trendy pinks and reds. Shop the selection today.