One man. One giant sock. Two marathons.
Posted by Katrina
The hard work and commitment it takes to run a marathon means that many people don't ever tackle it, while some attempt it as a once-in-a- lifetime event.
But for Stephen Peel, a 60-year-old hairdresser from Ashton, one just wasn't enough. He has run two marathons – London and Paris - in the space of a week. Dressed as a sock.
This amazing feat was done to raise money for the Christie, a specialist cancer hospital based in South Manchester.
Stephen chose his sock attire very kindly in homage to SOCKSHOP, who heard about his challenge as he was training and decided to sponsor him.
Stephen is no stranger to running marathons in comedy outfits; he has now completed 12 in the last four decades, and has dressed up in crazy costumes ranging from a currant bun to a pot of jam!
So how did he get on this time?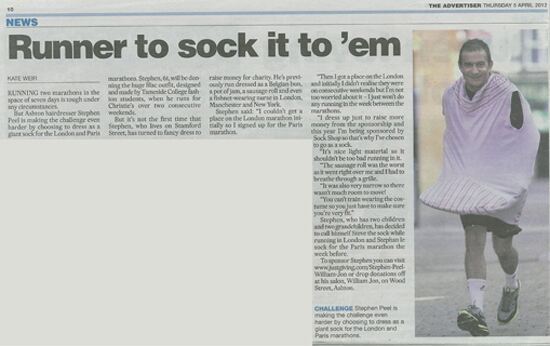 Stephen's challenge even hit the headlines! Here he is in the Tameside Advertiser
Stephen said: "The Paris marathon was a great start, with 46,000 people on the Champs Elysees. But I had trouble with my foot and legs after 9 miles, and then it seemed a long day!
"Lots and lots of people shouted for me as a sock which made it more fun, and I was seen on television!"

But Stephen actually found running on his home turf in the UK a lot more fun.
He said about the London Marathon: "The sun was shining, there were great grounds and it was really well organised."
Stephen's fundraising target is £4,000, and he can still be sponsored at www.justgiving.com/Stephen-Peel-William-Jon
Well done, or should we say bravo, Stephen!