How are bamboo socks made?
Posted by SOCKSHOP
Bamboo socks are becoming increasingly popular – not only are they made from a sustainable material, but they are great for your feet. With much higher absorption rates than cotton they help to keep your feet fresh thanks to the moisture wicking properties that bamboo naturally provides. They are also extremely soft, whilst the thermal properties of bamboo keep your feet warm in cold weather. But the question we are often asked is around how bamboo socks are made. We reveal the secrets of the trade below.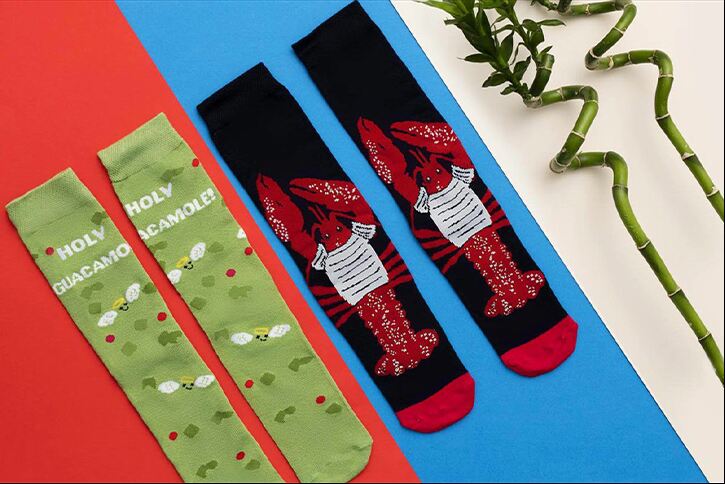 Harvesting bamboo
Bamboo is one of the fastest growing wood plants on the planet, making it a sustainable option for use in the mass production of goods, and ensuring that there is enough of the resource to allow for high levels of manufacture. Bamboo is usually harvested after around four years of growth.
Releasing the fibres
The harvested plants are broken up and chipped. The chips are then soaked to a pulp causing them to break down, exposing the cellulose. This resulting pulp is dried and pressed into sheets for storage and transportation.
Turning the fibres into thread
Once the sheets of bamboo pulp are dried they are ground up into fibres. These fibres are then spun into threads which are combined into a yarn called Bamboo Viscose.
How bamboo socks are made from bamboo yarn
The viscose yarn is then dyed and used, along with other polymers, to weave socks in the same way as cotton, wool or any other thread is used. So, how are bamboo socks made so that they are ready to sell in our store? Firstly the main sock tube is knitted using special machines that are designed for circular knitting. The sock then goes through a remeshing (sewing) procedure which is used to seal the tube at one end to become the toe area. Finally, each sock is placed over a foot-shaped former on which it is steamed and ironed to manipulate the tube into the sock shape that we are all familiar with.
Bamboo is truly a remarkable resource; fast-growing, sustainable and offering anti-bacterial properties which keep our feet fresh, healthy and odour-free. Now you know how bamboo socks are made, why not try a pair and see if you love them as much as we do?
Bamboo socks from SOCKSHOP
Our men's range of bamboo socks include trainer socks for the sporty and for those who like to wear shorts and trainers without sock showing above your footwear. We also have stripes, branded options and classic ribbed socks. Our ladies' bamboo socks include knee-length and over-the-knee socks for those chilly days that are just around the corner, or for a statement look. We also sell cushioned slipper socks and fair trade options, as well as all the classics you would expect to find.