Soup Kitchen Takeover - we speak to a visitor & volunteer
Posted by SOCKSHOP
SOCKSHOP recently teamed up with Manchester homeless charity Barnabus at their daily soup kitchen to provide members of the city's growing homeless community some much-needed foot care. While we were at the event, we were able to speak to a number of people in attendance to hear about their experiences of living on the street, as well as those volunteering for the homeless charity.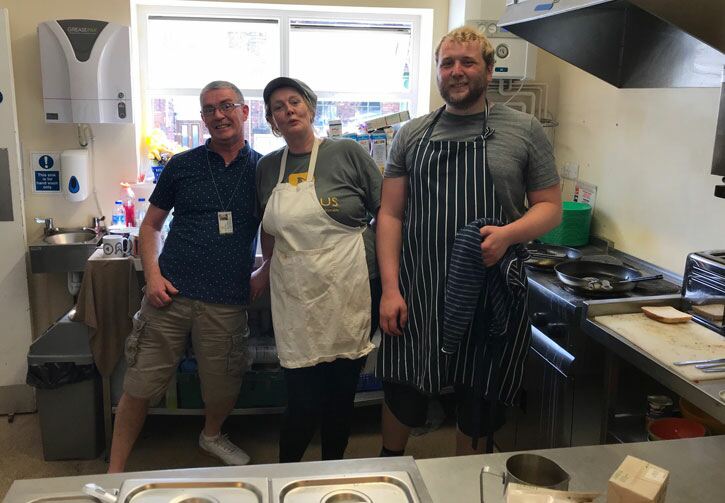 One of these was a homeless man called Graham - also known as Grandad, due to the length of time he's been on the streets - who talked to us about his life.

Please tell us what a normal day looks like for you
I've slept all over Manchester over the years, but at the moment I sleep in a tent close to Deansgate Locks. The group who sleeps there like the fact we don't get any bother from others while we are there.

I visit Barnabus every day for breakfast, then [my friends and I] will head onto the streets to make some money. We spend most of our time on Deansgate. At night, we will usually go to another shelter or drop-in centre to try and get some food. Depending on the day, I will visit Barnabus or Inspiring Change Manchester which helps the homeless with lots of things like that and getting furniture when they get in accomodation. They also provide support for homeless with mental health issues and they've helped me with that in the past.

Is there anything you wish the public knew about being homeless?
That we're not all the same. People think we're all addicted to spice and just ignore us on the street. Spice has really tarnished what people think about the homeless. We used to get called 'crackheads' and 'smackheads', but now people think we're all on spice, but it's not the case.


We also caught up with Jaz, a volunteer for Barnabus, who has volunteered at Barnabus for nearly two years. She told us all about the organisation's efforts to support members of the city's homeless community.




What is the best and worst thing about volunteering at Barnabus?
The best thing about volunteering at Barnabus is meeting so many different people all with their own individual story. Having the chance to see our friends make the steps to a better life is amazing.

In the time you have volunteered for Barnabus, have you noticed an increase in the number of people requiring the services of the soup kitchen?
The numbers of people walking through Barnabus' door has certainly increased. We see anything from 50 to 90 people a day. We serve between 500 and 600 people a month – most of whom are homeless, if not homeless then at risk of homelessness. 60% of our attendees are rough sleepers. The rest are either sofa surfing or in temporary or supported accommodation.

Please tell us what a 'typical' soup kitchen is like for you.
There is no such thing as a typical soup kitchen. Like I said before every day is different, the sessions will go as well as the guys walking through the door feel. Things as simple as the weather being bad can dampen the guys' moods and that will reflect on how they behave in the drop in. We as volunteers just try our best - the showers and clothing room are open, hot breakfast is available and there is always someone free for people to talk to. We just want to make sure Barnabus is a safe place for the people who need it most.

What impact will the presence of Forgotten Feet and SockShop at today's soup kitchen have on those in attendance?
It is a much-needed service offer as our visitors have lots of foot issues and will often not go to the medical practice to get help, but will access this service at our centre.

What advice would you give to anyone who was considering volunteering for a homeless charity? And what about businesses looking to get involved?
We would advise people find the charity that fits with them and get involved, don't be afraid, ask lots of questions and you will have a great time as well as helping to actually get people off the streets.


Our Socks for a Cause campaign
SOCKSHOP is dedicated to providing much-needed socks and foot care to homeless people across Manchester, and as part of our Socks for a Cause campaign, we've donated 20,000 pairs to homeless charities across the city.