Copied by many, equalled by none! The Heat Holders original sock came to light in 2008 after our Heat Holders team worked to create their vision of the 'ultimate thermal sock'. Since then the Heat Holders range has expanded to include a huge range of thermal socks, tights and leggings, thermal underwear, hats, scarves, gloves and even fleeces and blankets. Only the originals will do.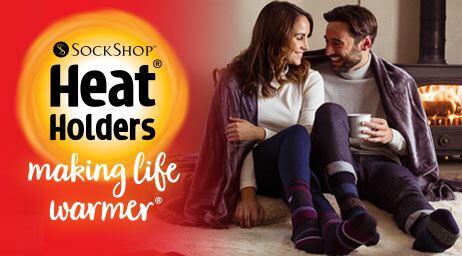 In response to a concern that thermal socks available on the marketplace were becoming less and less thermal in order to keep costs down, the team behind Heat Holders were devoted to creating the ultimate thermal sock.

Out of this dedication the Heat Holder sock was born! Yes, no more cold feet!

The key to Heat Holders is the inside of the sock, and it is thanks to this that they have a massive tog rating of 2.34. To put this into perspective, a normal cotton sock has a tog rating of just 0.33! The inside of each Heat Holders sock has been intensively brushed, giving it an incredibly soft feel, while holding more warm air close to the skin which keeps feet warmer for longer. The specially developed heavy bulk yarn keeps feet fully insulated along with the long pile cushioning, which will not only help keep feet cosy, but supported too.