$ USD
We accept PayPal Payments


Giving 100% grip, even in wet conditions, MacWet gloves are ideal to wear when playing any sport where good grip enhances performance. Have great grip, even in the wettest weather, when enjoying golf, horse riding, watersports, shooting, fishing, cycling and even paragliding, with a pair of Macwet gloves. Scroll down to view our collection in a range of colours and sizes.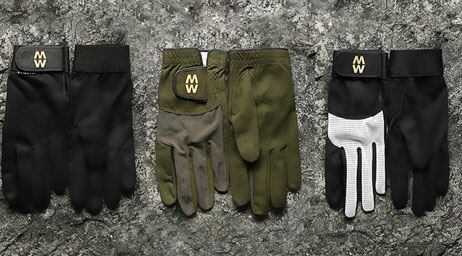 Read More
Our unique Aquatec® fabric, found on the palm of MacWet gloves, is part of the pioneering technology which gives the gloves their incredible grip. Made up of a complex and intelligent interlaced fleece structure from polyamide and polyurethane microfibres, Aquatec® is 3,000 times thinner than a human hair, making it extremely light. A rain shower has no negative effects on Aquatec® - it uses any moisture to increase the palm grip of MacWet gloves.
The MacWet Glove is designed, innovated and produced by The McSport Group was, established in November 1999. The revolutionary glove first originated as a waterskiing glove in the UK, and the comfort and enhanced grip technology of MacWet's products has steadily gained the trust of sportsmen in various disciplines worldwide.



MacWet has enjoyed outstanding success in the golfing, shooting and equestrian arenas. Fans of the MacWet Glove include Senior Professional Tour Golfer Gary Wolstenholme MBE; International equestrian eventers Polly Stockdon and Oliver Townend; National Hunt Champion AP McCoy; British All Round Ladies' Champion Becky Bream; Wales and GB Clay Shooter Graham Evans; and Olympic Dressage professional Laura Bechtolsheimer.





With the pioneering success of the MacWet Glove, it is being used in a number of sports in need of a high performance glove. Well known in the United Kingdom, MacWet is now enjoying widespread success in Europe and has made its way across the ocean to the United States. The brand can now count over 35 sports, which require the superb MacWet grip.
Customer Services
Our Sister Sites
Customer Services
Our Sister Sites
© Copyright 2018 Drew Brady & Co Limited T/A SockShop