This wide range of products includes general purpose boot socks, Wellington boot socks, and socks specially designed for use with steel toe-capped boots and shoes. Our Workforce socks and thermal wear have been designed to provide you with the ultimate in comfort. Workforce have carefully selected the most advanced fibres to ensure the highest levels of comfort and wearability. Ideal if you spend at lot of the time on your feet or out in the cold.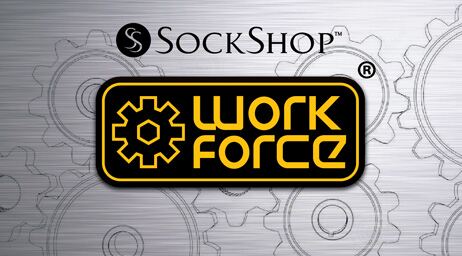 The Workforce range is designed for those who require socks that are as tough as their working environment and need a practical solution that doesn't compromise on style and comfort.
All styles are a combination of specially selected advanced fibres, technical knitting features and design techniques that work together to ensure that the socks are fit for purpose whenever they are called upon to perform the task they were designed to excel in.
Workforce socks are ideal for construction professionals, gardeners, DIY enthusiasts and all those who wear PPEgrade footwear, combining specially developed technology with ultimate comfort and wearability. Workforce socks really are fit for purpose, providing comfort and warmth for the wearer whilst ensuring that they are ideal for the job at hand. From construction professionals to DIY enthusiasts and gardeners, the socks are perfectly designed to work as hard as their wearer.
TV's Tommy Walsh is the Workforce socks brand ambassador:
"Workforce are the hardest wearing socks I've ever worn and also the most comfortable. They provide me with the comfort and protection I need when I'm working hard or when I'm out and about. They're warm, but never get too hot; they're cushioned, extra strong and fit comfortably with my trainers, working boots and shoes. I don't know how they've done it, but Workforce have made the perfect sock!""On the building site it's important to have the best equipment that will help you get the job done to the best standard. I strongly believe that Workforce socks are the very best on the market, completely unrivalled for durability and comfort."
– Tommy Walsh