Spring clean your sock drawer
Posted by SOCKSHOP
A spring clean can tackle many aspects of your life, from clearing out the garage to finally re-organising your kitchen cupboards.

But let's not forget one of the most overlooked mini-messes in your house – the sock drawer.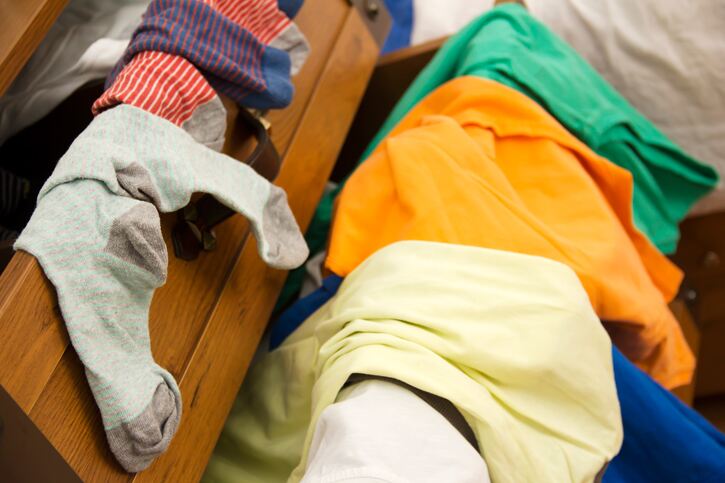 Now's the perfect to time to see what's staying and what's going…
1. At the end of their life


The first step is to find socks that are undoubtedly at the end of their lives. These are the ones with big holes in that are no longer their original colour, or are all alone in the hope their partner will one day turn up.


Once you've got rid of all these, you'll be left with a clearer idea of what you've actually got in your sock arsenal.


2. Do you wear them?
Now take a look at these pairs and ask yourself, when was the last time you wore them? If you hesitate for a second or the answer is more than a fortnight, it's time to put them away or throw them out.

We've all bought clothes that seemed like a good idea at the time but that are now languishing in the back of our wardrobes. It takes a brave person to admit their mistakes and get rid of them.

3. Make seasonal changes
As spring and summer approach, it's time to put away the warm winter socks and bring in something a bit more seasonal. This means any Christmas patterns (snowflakes included) need to be stored away until at least after Halloween.

Invest in some brightly-coloured pairs in light breathable materials to keep your feet dry and blister free this summer. Some ankle socks might also be a good buy for when you bring out the shorts.


4. What's in fashion?
It might be that you've not given your sock drawer a spring clean for some years and even the best pairs are starting to look a little, well, unfashionable.

Your spring clean is a great excuse to update your socks and embrace the current trends. Right now, geometric prints are big – and socks are a great place to show them off. They're subtle enough that they don't overwhelm your outfit but offer plenty of personality and style.

5. Get organised
Once you've got rid of the old and brought in the new, it's time to organise your socks so you don't have to do another spring clean for some time.

Use drawer separators to keep pants and socks divided and make sure all socks are paired together.

We're not expecting you to have every pair perfectly lined up by colour, but having a side of the drawer for socks and another for other underwear is a good start.