8 of the coolest character socks
Posted by SOCKSHOP
Why is the period between Christmas and summer so depressing? Not only will it not stop raining, but it's freezing cold, usually without the benefit of snow.
Here at SOCKSHOP, we've decided that it's time to cheer ourselves (and you – of course) up. And what better way to do it than with some shameless character sock eye-candy?

From the Despicable Me minions to Sesame Street, a novelty pair of socks can brighten even the darkest day. Don't believe us? Try a pair on and see for yourself!
Here are eight of our favourites:

1. SOCKSHOP Superman Cape Sock

Superman first made the bold decision to wear his pants over his skin-tight cat suit way back in 1933, and has been one of the most iconic superheroes ever since. These socks are cool for many reasons, but most importantly they have a cape – what could be better than that?
2. SOCKSHOP Despicable Me Minions Faces Cotton Socks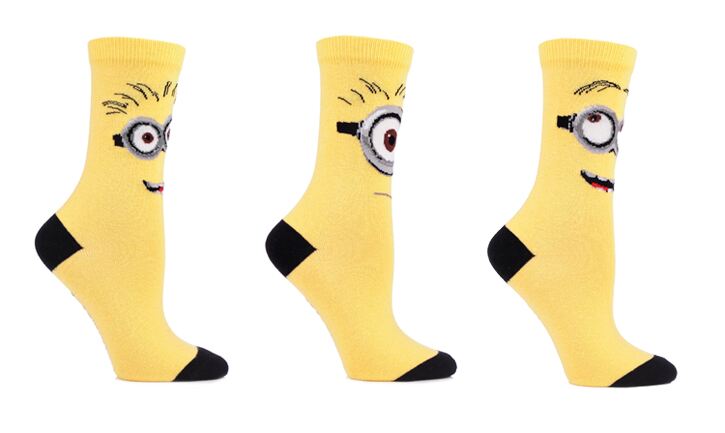 Who doesn't love the Despicable Me minions? The little yellow creatures giggled their way onto our screens in 2010, and their impulsive, wide eyed-innocence has quickly made them some of our favourite characters. Take them with you wherever you go with these bright socks.
3. SOCKSHOP Sesame Street Socks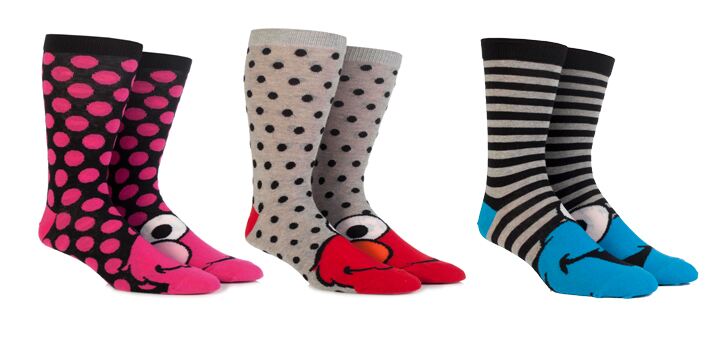 Who is your favourite Sesame Street character? The educational television program was first aired in 1969, resulting in Big Bird and friends becoming household names (fun fact: it's rumoured that Big Bird received more fan mail than any of the show's human hosts!). These fun socks feature Elmo, Telly and Cookie Monster.
4. SOCKSHOP Batman Cape Socks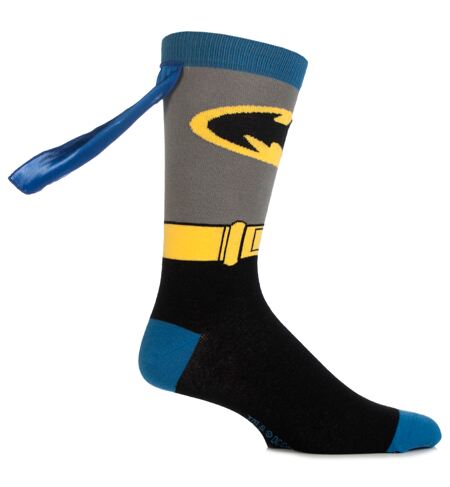 We couldn't resist including another pair of cape socks – they're just too cool. Batman (also known as The Caped Crusader and The Dark Knight) appeared in his first comic in 1939 and has since gone on to have his own franchise of Hollywood blockbusters. Embrace your inner superhero with our Batman Cape Socks.
5. TM Mr. Men Character Socks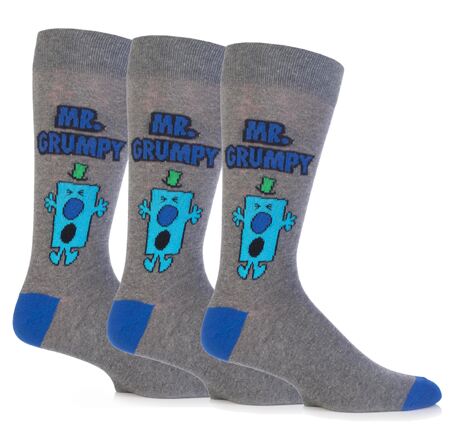 The Mr Men, and in particular, Mr Tickle, Mr Greedy, Mr Happy, Mr Nosey, Mr Sneeze and Mr Bump, were launched in 1971, and since then, many more characters have been added to the franchise. Our Mr Men Character Socks make a great gift for a man in your life, as everyone has a particular character they identify with (we all know a Mr Happy, a Mr Bump and a Mr Grumpy!)
6. SockShop Batman Striped, Spotty and All Over Motif Cotton Socks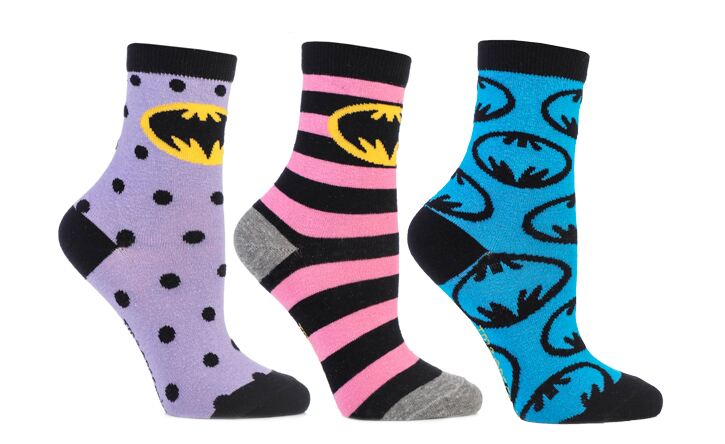 It's not just boys who like Batman – these Batman socks are definitely for the ladies and come in lilac, pink and pale blue. After all, why should the boys get to hog all the cool superheroes?
View our
7. TM The Simpsons Homer and Bart Socks with Cushioned Sole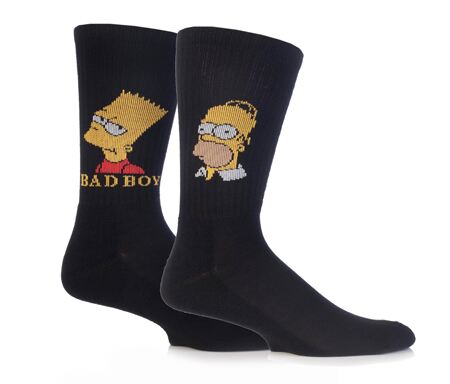 Can you believe that The Simpsons show has been going since 1990? It's easy to see why this weird, yellow family have become so popular – they're hilarious. All of the characters have now reached an iconic status, but bad boy Bart and lazy Homer are perhaps the best-loved. Wear your Bart socks on days when you're up to no good, and your Homer socks when you just want to laze about.
8. SOCKSHOP Winnie The Pooh & Friends Socks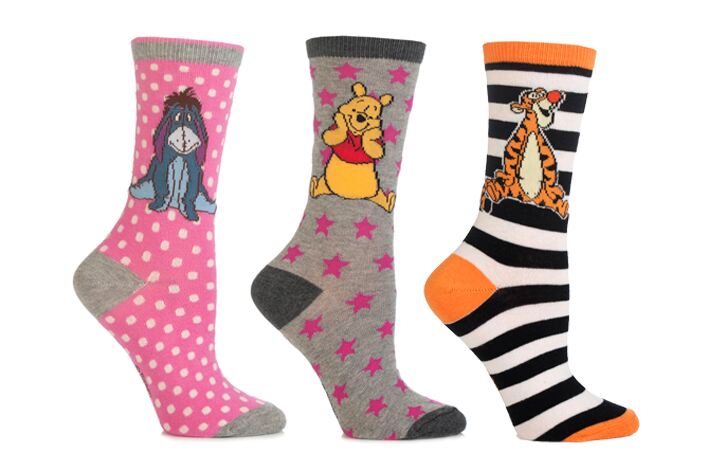 Created in 1926, Winnie the Pooh and his friends, Christopher Robin, Piglet, Eeyore, Tigger, Rabbit, Kanga, Roo and Owl, are a fond childhood memory for many of us. The franchise has also produced some stonking quotes, such as the classic line: "How lucky I am to have something that makes saying goodbye so hard." Keep these childhood characters with you, with our Winnie the Pooh & Friends Socks.
We don't know about you, but these fun character socks have thoroughly cheered us up. Which are your favourites?