Why bamboo socks are a walker's best friend
Posted by SOCKSHOP
If you love nothing more than donning your hiking boots and heading off into the great
outdoors, you'll know how important the right type of sock can be to your walking
enjoyment. They really can make or break the whole experience. If you're looking for the
ultimate boot sock material to keep your feet fresh, dry and comfortable whatever the
weather and terrain, bamboo socks are about to become your new best walking buddies.
Outdoor enthusiasts have always embraced new technology and materials in their bid to enjoy nature to its
fullest. In the 1970s, Gore-Tex revolutionised waterproofing and has been a permanent fixture in the
wardrobes of committed walkers ever since. Now, bamboo has started a quiet revolution of its own, with a
new wave of bamboo walking socks that take comfort and durability to a whole new level.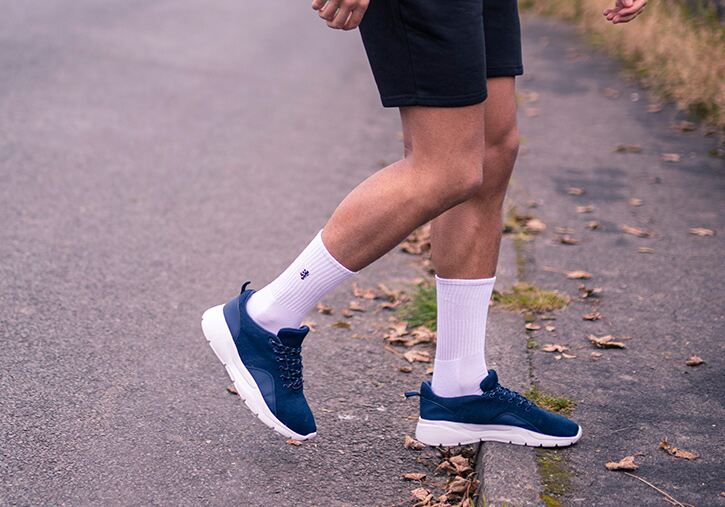 Why choose bamboo walking socks?
Traditionally, if you wanted hiking socks that guaranteed comfort, warmth and natural odour resistance, you'd make a beeline for wool. Cotton blends and synthetic materials offer an alternative but wool (especially merino wool more recently) has always been the go-to material for discerning walkers. But we foresee a subtle shift in the natural order of things, as word gets round of bamboo's ready-made walking credentials.

Bamboo is thermo-regulating, which means it'll keep your feet toasty on sub-zero hikes and cool on scorching summer walks. It also wicks away moisture, so you can expect your feet to remain fresh and dry all day long. Not only that, but bamboo socks are also antibacterial, which means you'll never have to endure smelly boots ever again! Plus, bamboo is skin-kind, thanks to its hypoallergenic properties, and is luxuriously soft to the touch.

If you love spending time in nature, we'll hazard a guess that you're probably more aware than most of your impact on the environment. Well, bamboo walking socks can also lower your carbon footprint. That's because bamboo is an eco-friendly and vegan material, whose plants are carbon neutral, self-regenerating and fast-growing. Bamboo is also hard-wearing, which means you won't need to replace your walking socks as often.
Buy bamboo walking socks at SOCKSHOP
SOCKSHOP offers an impressive array of bamboo walking socks to add to your collection. Amongst our vast collection, you'll find a selection of ladies' bamboo socks, including technically advanced bamboo and merino blend boot socks designed for the Finnish military from UphillSport. Meanwhile, our range of men's bamboo socks features fully cushioned and breathable designs from Jeep, which are exclusive to SOCKSHOP.
Whether you're a hiker, climber, walker or rambler, you're going to love the comfort and durability of bamboo walking socks. In fact, once you've tried them, you might wonder how you ever got by without them. Browse our full range of bamboo socks online today and we guaranteed you won't look back. Treat your feet with some bamboo walking socks that will go the extra mile for you – in every sense!
For more information about any of our SOCKSHOP products, or for help with orders, please contact us on 08000 195 667.