SOCKSHOP Spend to Give: Crisis
Posted by Katrina
Here at SOCKSHOP we like to think we are very active in supporting good causes. As individuals, we all take an interest in helping charities in different ways, and this often spills over into our working life.
When planning and thinking about what promotions and campaigns we can run in the future, charitable things are often discussed. It was after such a discussion that SOCKSHOP: Spend to Give was born.
We (the big boss!) have (has) decided that on the last Friday of this month and continuing in 2013, SOCKSHOP will donate 20% of the day's proceeds to a nominated charity. This month, it's the national charity for single homeless people, Crisis.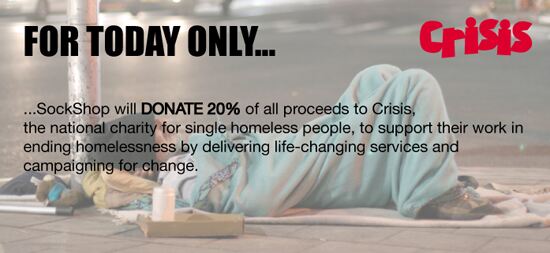 Our thinking behind supporting this particular charity less than a month before Christmas was that there was something particularly poignant about the fact that while many people are excitedly buying presents, decorating their homes and making plans for family visits, others will be spending the festive period lonely, isolated and in vulnerable places.
Crisis is a national charity which helps thousands of homeless people all year round, providing life changing opportunities and support through education, employment, housing and health and wellbeing services. At Christmas, the charity offers warm, safe places of companionship and compassion for thousands of homeless and vulnerably housed people. It provides accommodation for rough sleepers, and people with specific needs such as women and those with dependency issues.
Crisis relies on thousands of individual donations, large and small, to continue its work. We hope you agree that this is a fantastic charity to pledge our support to, and that your actions today will assist Crisis in its goal to end homelessness for good.
Please keep an eye out for future SOCKSHOP: Spend to Give Fridays; we will let you know when they're happening and which charity we will be supporting.
Crisis UK (trading as Crisis). Registered Charity Numbers: E&W1082947, SC040094.

This promotion took place on 30/11/2012 and has now finished.