The benefits of diabetic socks
Posted by SOCKSHOP
With World Diabetes Day this Saturday 14th November, there's never been a better time to take a look at our custom collection…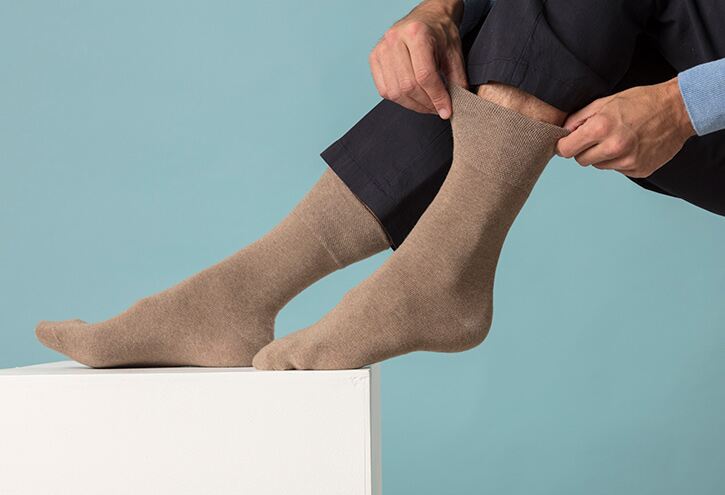 Protection from cuts and blisters
Diabetes can often lead to nerve damage in the feet and with that, a greater risk of infection. Specialist diabetic socks use a cushioned sole to help protect against nicks and cuts to the feet, while our Gentle Grip range even uses a hand-linked toe to prevent rubbing and sores. If you spend extended periods of time on your feet, look out for harder-wearing options that don't compromise on comfort.

Cleaner feet
Sweaty socks are a real bugbear for those living with diabetes. It's not just a battle against unpleasant smells, the germs are more likely to lead to infection. Nerve damage makes it more difficult to recognise nicks and cuts to the feet and, once bacteria reaches openings in the skin, you could be struck by 'foot attack'. Luckily, diabetic socks are treated with an antibacterial substance to prevent the germs developing into something nastier. Keep an eye out for the ActiFresh treatment from our collection.

Cool and dry feet
We've already learnt how germs produced by sweat can cause a host of health problems, but surely a soggy pair of socks should be avoided at all costs anyway. While many people invest in waterproof shoes to prevent the rain reaching their feet, the wrong socks could mean your feet become damp without the help of the elements. Our CoolMax fabric is designed to wick away moisture to reduce the risk of fungal infection from inside your shoes.

Added comfort
It's vital that diabetic socks prevent sores or blisters from developing. That's why the highest quality pairs prioritise comfort. Comfortable toe seams and cuffs are an extremely important feature in diabetic socks as they must be soft, not bulky or tight, and completely smooth to prevent abrasion.

Take 20% OFF our Diabetic Socks range until midnight (GMT) on Sunday 15th November. Just add any pair(s) to your basket and use the code WDD20 for 20% off each item. T&Cs apply.