Choosing the perfect sleep socks
Posted by SockShop
There's nothing quite like slipping your feet into a pair of snuggly bed socks on a chilly night. Ice cold feet can stop you getting to sleep – and won't go down too well with your partner either.

You should never sleep in the socks you've been wearing during the day as bacteria can multiply. Instead, you should choose ones specifically designed for bedtime. We show you how to pick the perfect pair.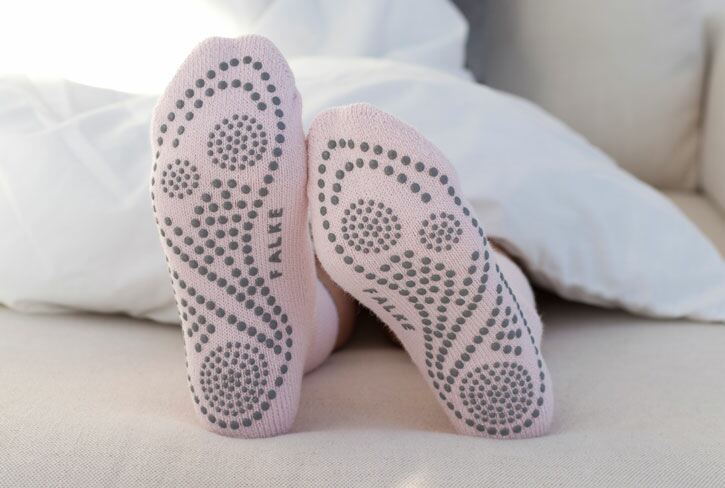 Go for a luxury natural fibre
It's worth paying a little bit extra for a luxury material such as cashmere or alpaca as this not only feels super-soft but allows your feet to breathe too. Some socks come in fluffy manmade fibres with snazzy designs, and while these are great for snuggling up in front of the telly, they're not ideal for wearing in bed. They can end up making your feet too hot and sweaty by the time you wake up in the morning.

Make sure they're not too tight
Cold feet aren't good for your health. Bed socks are known to benefit you if you suffer with poor circulation or nerve damage. However, it's important to ensure they're not too tight as that can restrict circulation. Plump for a slightly loose-fitting pair as this won't cut off the blood supply to your toes.

Look for hand linked toes
With socks that have hand linked toes, the toe seam is linked together with a single thread, giving a smooth seam so you won't feel any bulkiness. That ensures your toes aren't irritated during the night.

Buy sleep socks that are built to last
There are likely to be a lot of cold nights during the winter months. That means your sleep socks will get a lot of use. Some poorly made bed socks go bobbly after a few days of wear, and even shrink when you wash them. Socks made from quality materials such as cashmere, mohair or alpaca should last you for years.