Every Pringle garment brings to the wearer a heritage of craftsmanship and quality reaching back to the company's foundation in 1815. The Pringle name is a Hallmark for superior quality, with a rich and full heritage that is hard to beat. Combining beautiful design and intricate quality, take a look at our broad range of men's and ladies' socks and men's underwear below.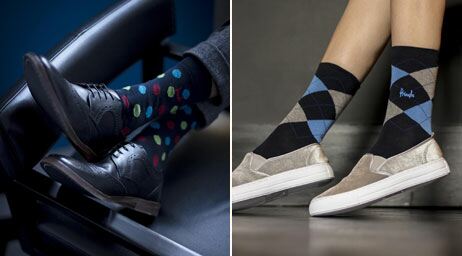 Pringle of Scotland is the iconic brand founded in 1815 at the birthplace of the Scottish knitwear industry. From the beginning, technical innovation has led to the creation of knitwear as outerwear it became one of the first luxury knitwear manufacturers in the world, having expanded throughout Europe, the US and Asia during the 19th and 20th centuries.
Pringle has been knitting cashmere since the 1870s when it began as a luxury hosiery manufacturer. It was later credited with creating the intarsia design known today as the Pringle signature argyle pattern, which was immediately adopted by the Duke of Windsor and the fashionable set of the time. Pringle also took a sporty two-piece cardigan and sweater set from the golf course and retailored it to create the 'twinset', and a classic British style icon was born.
In March 2000, a new chapter began for the company when a brand vision and key strategies were put in place to take the business into the international luxury arena.
As Pringle of Scotland nears its 200th anniversary, Robert Pringle's founding principles of quality, style, authenticity and innovation are still of the utmost importance today. These are the foundations of a company that is one of the most desirable luxury heritage fashion brands in the world.