From mood boards to manufacture: The evolution of a sock
Posted by Katrina
novelty?
Those are the questions that our design team try to figure out when they are planning the newest ranges that adorn the SOCKSHOP site.
You may easily dismiss the items as 'just socks' but a lot of research, planning, designing and testing goes into each and every sock that gets made and sold.
The journey of the socks starts early too. Our designers have already begun the process that will result in our spring/summer 2013 collections. They have to figure out what you will like a year in advance, before you might even know!
So I thought I'd take the opportunity to show you how much hard work goes into the making of a pair of socks, and how it evolves from a colour on a board to the items on your feet.
Stage one: Research
Predictions are the name of the game for this initial process. The designers are trying to guess what everyone will be wearing this time next year, which is no easy feat (I struggle to figure out what I'll be wearing this time tomorrow!).
They have to consider not just what colours may be popular, but patterns, textures, yarn and overall themes that are going to making a big impact on the fashion world and the high street.
Different patten ideas and placed together so the design team can compare
There are a number of resources to help them make these decisions, including the internet, pattern books, and a fashion library that they are members of.
Catwalk magazines, featuring 'high end' designers, are also a great place to start.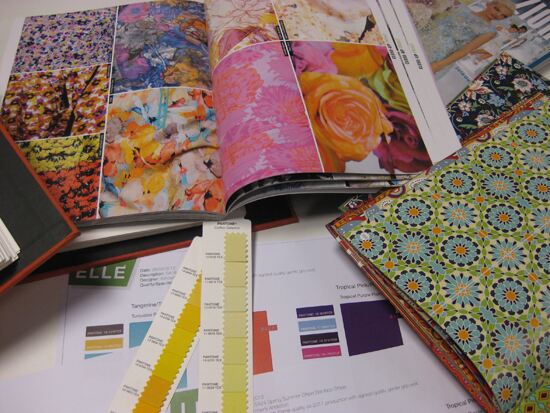 Books containing lots of patterns and trawled through for inspiration
Designer Kim said: "Although we are not designing 'high end' fashion, the catwalk magazines are a great starting point, as they give a good indication of what is going to trickle down to high street trends."
Then – mood boards! The designers gather beautiful patterns and colours together so that they can easily compare and contrast, and start to build the overall theme and story that the range will convey.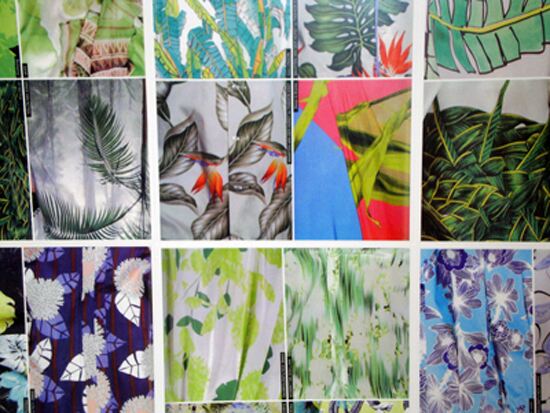 Mood boards help the designers choose on a particular theme for the range
Once they have got their research together, then the designing can begin, which I will cover in a blog post soon!