What are bamboo socks?
Posted by SOCKSHOP
What are bamboo socks?
How much do you know about bamboo socks? These silky-soft socks, spun from the pulp of the giant panda's favourite snack, tick all the boxes if you're planning to really treat your feet. Eco-friendly, antibacterial, hypoallergenic, thermo-regulating, moisture-wicking and downright luxurious against your skin; these hard-working socks more than justify the hype. Here, SockShop sets out to answer all your burning questions about bamboo socks.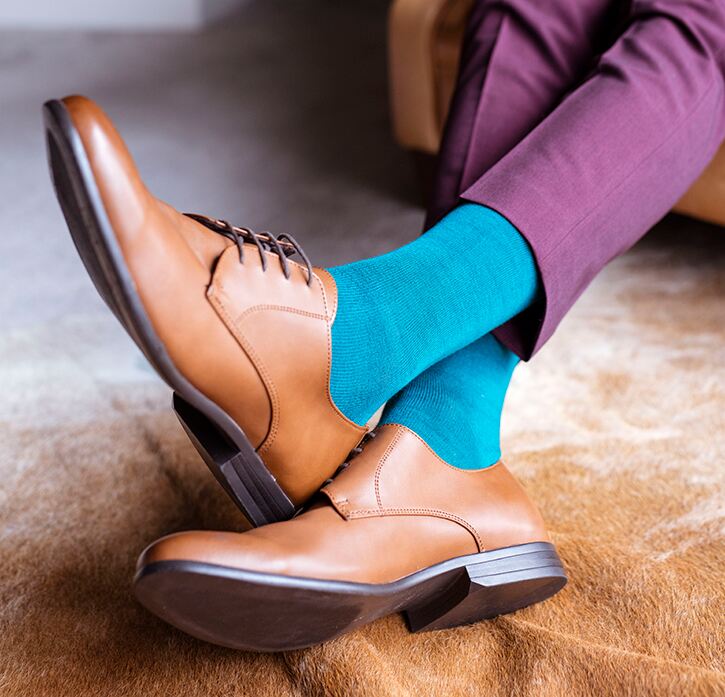 What are bamboo socks?
Bamboo socks are sustainable socks made from bamboo threads, which are spun and woven to make some of the most eco-friendly and foot-friendly socks available today. You'll be amazed at just how soft and luxurious bamboo socks are considering they come from a tough, fast-growing plant that's stronger than steel.
How are bamboo socks made?
As you can imagine, a fair bit of work is involved in turning bamboo shoots into socks. Crushed bamboo stems and leaves are soaked in caustic soda (sodium hydroxide) to break down these woody materials to make bamboo viscose. This is then be spun into yarn and woven into the super-soft socks that we know and love.
What percent of bamboo makes the best socks?
Bamboo socks are often woven using a combination of bamboo threads and several other performance-enhancing materials like polyamide (nylon), added for extra durability and elastane for extra stretch and comfort. The higher the percentage of bamboo, the softer, more anti-bacterial the sock.
What are the benefits of bamboo socks?
Where do we start?! There are so many benefits of bamboo socks! They're naturally antibacterial, hypoallergenic, thermo-regulating and wick away moisture to keep feet fresh and dry. They're also eco-friendly because bamboo plants are carbon-neutral, self-regenerating, fast-growing and need less water.
Are bamboo socks hard-wearing?
Yes! Bamboo is an extremely hard-wearing material and bamboo fibres are no less durable. As we mentioned earlier, it's rare to find 100% bamboo socks. Most bamboo socks on the market, including many of those available to buy on the SockShop online store, are blended with other fibres for extra strength and longevity.
Are bamboo socks antifungal?
They sure are! Bamboo contains a naturally occurring anti-microbial bio-agent, called 'bamboo kun'. This same clever substance that makes bamboo plants resistant to pests (which means no pesticides) is also what makes bamboo socks antibacterial, antifungal, odour-resistant and hypoallergenic.
How do I wash bamboo socks?
As with any piece of clothing, it's important to follow the manufacturer's guidelines. Generally speaking, we advise washing bamboo socks in cold to warm water no hotter than 60 degrees Celsius. Use a gentle detergent wherever possible and line dry when you can because repeated machine drying can damage the fibres.
Where to buy bamboo socks?