PRODUCT INFORMATION
51% Acrylic 29% Polyester 19% Cotton 1% Lycra Elastane
3 Pair Pack
Smooth Toe Seams
Gentle tops
Extra-wide, non-binding leg; Cushioned foot; include Coolmax to keep skin cooler, and Sanitized Actifresh; Machine washable at 40°
Thickness: Regular
Approved by the College of Podiatry - this product loves your feet.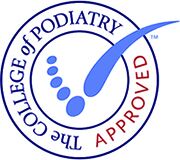 Addressing some of the daily foot care challenges of young people living with diabetes and similar conditions, soft, comfortable and non-binding Iomi FootNurse Cushioned Foot Diabetic Socks are designed to manage the symptoms and help prevent circulation issues. These triple packed cotton blend socks include moisture-wicking and highly breathable Coolmax fibres to keep feet and are treated with Sanitized Actifresh for bacteria resistance and longer lasting foot freshness.
Made with a looser knit than conventional socks, Iomi Diabetic Socks are extra-wise, and can stretch to the contours of all shapes of leg easily, without being tightly elasticated. The socks have comfortable, cushioned toes, soles and heels, and smooth Smooth Linked Toe seams to protect feet.