A pilgrim's progress...
Posted by Katrina
It is quite common for SOCKSHOP to be contacted by different people and organisations requesting sponsorship or items to use in raffles. We especially like to hear from folks that are looking for socks to help them complete particularly arduous tasks which they are receiving sponsorship for. Paul Strachan, from Wiltshire, is one of those people. He recently got in touch to ask if we would consider providing him with some pairs of Bridgedale comfort trekker socks for his 1,500-mile charity walk – and we were more than happy to oblige.
Paul is planning to walk from Paris to Spain next month in aid of the NSPCC. His route will include part of the Camino de Santiago, or the way of Saint James – a famous pilgrimage made up of a collection of routes which eventually lead to the Spanish town of de Santiago de Compostela.

The origins of the pilgrimage are believed to have been established around a thousand years ago, with Christians taking part in the pilgrimage in order to seek forgiveness from St James. It is believed that the remains of the apostle are buried in Santiago de Compostela's cathedral.

Today, the routes attract a variety of people who walk them for other reasons as well as religious, including charity fundraising. Paul is planning to travel to Paris, then walk to St Jean Pied de Port on the Spanish border, where he will start the popular pilgrimage route which will take him to Santiago de Compostela. He will then continue on to Muxia and Finisterre.
Paul plans to set off on his journey on the 4th September, and anticipates it will take around 70 to 80 days to complete.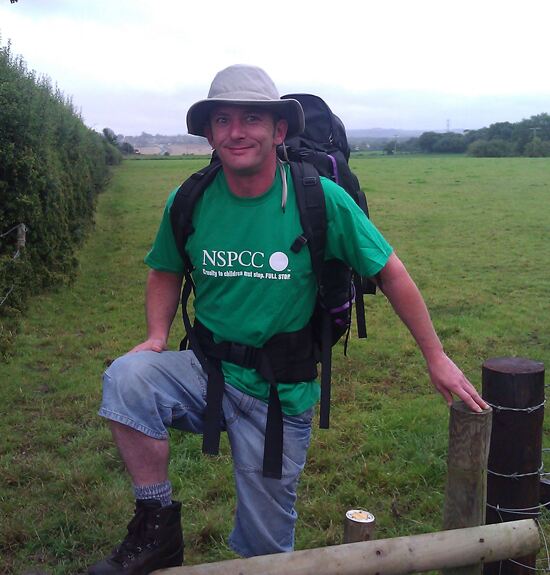 Paul Strachan will start his charity walk next month
Why did you decide to tackle el Camino de Santiago?

I decided to tackle the Camino for a number of reasons really. I think that hitting 40 made me realise that I have never done anything spectacular with my life. A friend of mine walked this route about six years ago and said it was the best experience of his life so far. Something in him just seemed to change for the better and that's appealing in itself.

What do you think will be the biggest challenge of the trek?

I think the biggest challenge during the Camino will be the periods of isolation and learning to live without the comforts of the modern world. Probably this will reap the biggest benefits though, too. I expect to learn what I am made of as a person.

How have you prepared?

Preparing for the trip has been great fun. There is so much to find out! The forum is a great source of information from Pilgrims past and current. Advice, experience, camaraderie and some great anecdotes can be found there. Physically, I have been doing a series of walks with the weight I expect my pack to finally be simulated by weights.

Why did you decide to raise money for the NSPCC?

I chose the NSPCC as my charity as I have children and grandchildren of my own and I believe that every child should be given the chance to be the happiest and best that they can be.