The rise of the 'suit sock'
Posted by SOCKSHOP
Once upon a time in a boardroom in England there was a sea of black and grey socks as far as the eye could see.

But no more. As styles change and dress codes become more relaxed, a sock revolution is taking place.

We look at the changing styles and how to wear them.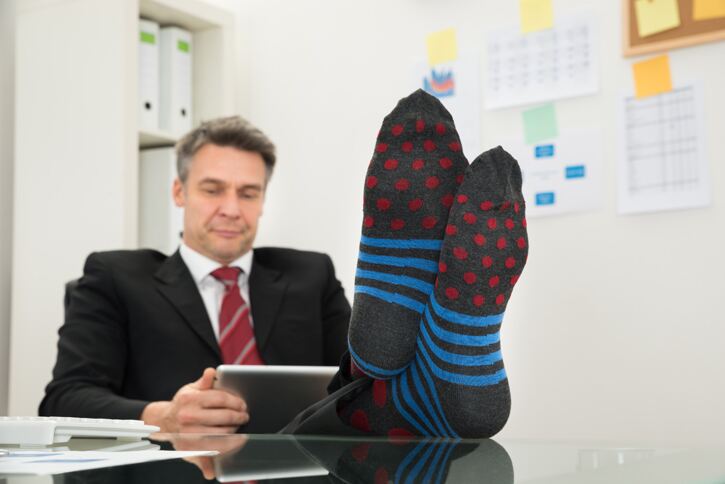 Show your personality in style with funky office socks

Add a splash of colour

It used to be if you wanted to get across a bit of personality, you'd opt for the bold and bright tie. But the tie is no longer the only way to flash a bit of colour in an otherwise grey office world.

Black and blue socks have been replaced by statement colours, stripes and patterns.

Socks now comes in a variety of styles including coloured stripes, new takes on classic patterns, spots, geometric prints and, well, the list goes on.

How to wear them

Moving from simple socks to statement pairs doesn't have to be a big decision.

For example, a single block of primary colour poking out over black leather shoes can have a huge impact - like these Urban Knit Fun Striped and Geometric Designed Socks – great for those working in design and the arts.

A few rules

It's not a free-for-all when it comes to socks – there are still some rules.
Avoid striped socks with pin stripe suits, as this can cause stripe overload.
Steer clear of novelty socks. You might love superheroes, but keep your Hulk socks for after work. Or don't – they might make the right impact in your boardroom. Who are we to say?
Consider the whole outfit. It's not just about matching the sock with the suit – consider the belt and, more importantly, the shoe. A dark brown sock won't work as well with navy shoes, while navy socks could look out of place with black brogues.
Living in a material world

One of the benefits of the range of socks available for the modern office worker is that they come in a number of breathable and feet-friendly materials.

No longer will you end a day of hard negotiations and hour-long meetings with sweaty feet.

Thanks to materials like merino wool, Egyptian cotton and bamboo your feet can breathe again.

Add to that wicking technology that moves moisture away from your feet, and you'll be fresh all day long.