Which sock type matches your personality?
Posted by SOCKSHOP
Answer our quick questionnaire below and take a note of your answers to find your perfect pair of socks…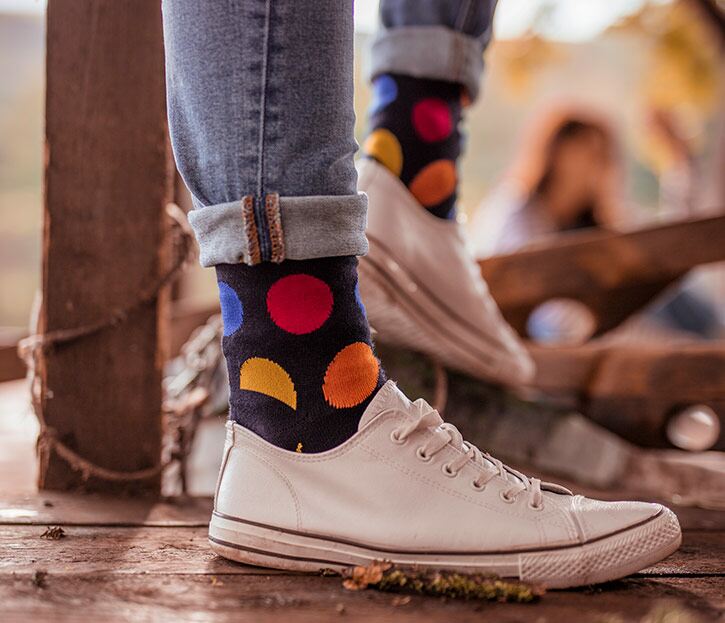 How would you describe your style?
Formal with a sprinkling of quirky
As long as it's made from organic materials and isn't too high maintenance, I'm usually a fan
I can't resist a slogan or graphic t-shirt
I'll take function over fashion any day
My everything

Which of these sounds most like your weekend plans?
Reading through the Financial Times – money doesn't sleep, even at weekends
Heading for a rural retreat in the great outdoors
Curling up in front of Netflix with the perfect snacks for a binge
A trip to the gym followed by a 10k and cycle, at a stretch some yoga too
Hitting the high street with a credit card

If I were a sock I would…
Add a touch of personality to a sharp suit and tie combination
Be made from sustainable materials
Be covered with the face of my favourite superhero
Provide optimal support and comfort while wicking away sweat
Perfectly accessorise with the rest of an outfit

My lunch tends to be…
Something quick and convenient I can pick up near the office
Home-grown and definitely vegan
Does popcorn count?
The perfect balance of carbs and proteins to fuel my day
A dish from the latest pop-up or recently opened restaurant

What are you watching when you put your feet up at the end of the day?
Catching up on the latest developments on the news
The latest Attenborough documentary
I've got all my favourite streams lined up for the month
Have I got time to fit in a quick HIIT circuit?
A period drama so I can marvel at the work of the wardrobe department

If I were a drink I'd be
A strong coffee, the perfect pick-me-up
My home brewed kombucha tea
If Butter Beer is out of the question, I'll have to be hot chocolate with squirty cream, marshmallows, the works
Sorry, couldn't hear you over my Nutribullet blending up a protein storm
Instagrammable

The one piece of clothing I can't live without is…
My perfectly tailored suit
It has to be my DIY jumper
My full Ghostbusters uniform complete with proton pack
Does my smartwatch count? If not, I'm not hitting the gym without my new Nikes
An amazing vintage piece I picked up during my New York shopping spree
Which of the following sounds most like your next holiday?
Does my trip for the convention in Berlin count?
I'm strictly staycationing for now, there's a great rewilding project I might volunteer with
I've already booked my flight to King's Landing, Croatia
Anywhere I can take my new found love for surfing
I hear Milan is a must
That's it, you're done! Have a quick scan of the answers to find your next pair of socks.
If you answered: