Best of the rest – The biggest film releases in 2021
Posted by SOCKSHOP
It might be nearing the end of the year, but there are still plenty of huge new movie titles for you to enjoy in the final weeks of 2021. Here's our pick of the best…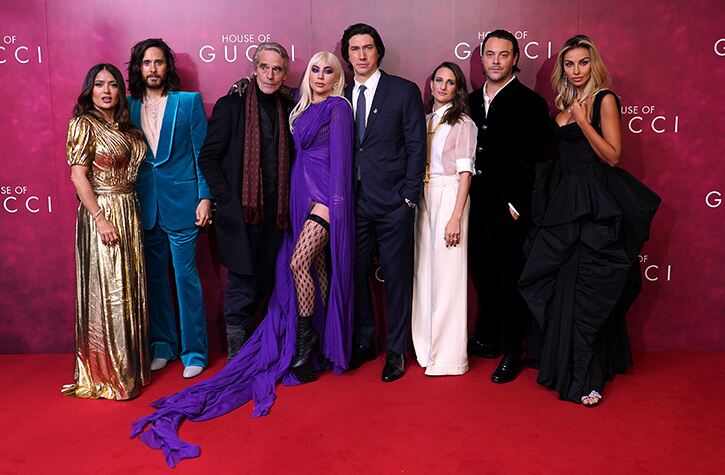 Grab some popcorn and enter the House of Gucci

House of Gucci
Doors recently flung open for this much-anticipated film, following the Gucci clan back in in the mid-90s. Starring Lady Gaga as Patrizia Reggiani and Adam Driver as Maurizio Gucci, the plot follows the scandalous story of Regianni arranging the assassination of Gucci (also her ex-husband).

Release date: 26 November

Don't Look Up
This upcoming film has a cast packed full of famous names – Leonardo DiCaprio, Jennifer Lawrence, Jonah Hill, Meryl Streep, Ariana Grande and Timothée Chalamet to name but a few. Two low-level astronomers (Kate Dibiasky and Dr. Randall Mindy played by Lawrence and DiCaprio) team up to warn the world of an approaching comet and plead with the White House to save the planet.

Release date: 24 December

West Side Story
Steven Spielberg's modern take on the 1957 Broadway stage show – serving as the second feature-length adaptation – is guaranteed to satisfy your musical cravings this Christmas. A musical take on Shakespeare's Romeo & Juliet, Teenagers Tony and Maria, played by Ansel Elgort and Rachel Zegler, fall in love in the 1950s. This is, of course, despite being from rival street gangs – the Jets and Sharks.

Release date: 10 December

The Matrix Resurrections
The Matrix is back, 20 years on. Following the iconic sci-fi Matrix trilogy of the noughties, the hero Neo (Keanu Reeves) is still alive. After losing and then regaining his memory, helped in part by his former allies Trinity (Carrie-Anne Moss) and Morpheus (Yahya Abdul-Mateen II), he re-enters the Matrix once again to fight against the Machines. But what follows next?
Release date: 22 December

Spider-Man: No Way Home
Spider-Man is due to grace our screens once again, starring Tom Holland as Peter Parker and Zendaya as 'MJ', now Michelle Jones. With Spider-Man's identify now revealed to the world, Parker can no longer separate his normal life from his web-shooting superhero persona. When he enlists the help of Doctor Strange (Benedict Cumberbatch), he faces his toughest challenge so far…

Release date: 15 December